Education - Kianglaghyn Ynsee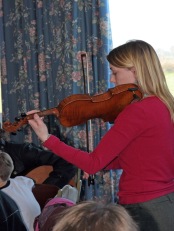 Culture Vannin organises and supports various educational schemes concerning Manx music. The Manx Music Development Officer coordinates with the Isle of Man Music Service, the Youth Service and all local schools by providing resources, organising and leading workshops, and by encouraging participation in the annual DEC Manx Folk Awards.
Organised by the Manx Music Development Officer, Bree is a movement for young singers, musicians and dancers (aged 10 to 18) who are interested in Manx culture - workshops and performances are held throughout the year and membership is free. The team also organises adult workshops led by visiting professional musicians and dancers.