Claasagh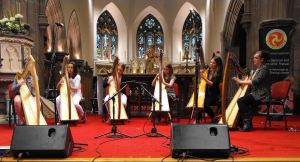 Claasagh is the name for the Manx harp ensemble created and led by inter-Celtic harp specialist, Rachel Hair.
Made up of her Manx pupils, Claasagh have performed at Yn Chruinnaght Inter-Celtic Festival and as support for Rachel's own trio.
In 2014, they will perform at a special concert at St German's Cathedral celebrating Manx artist Archibald Knox.
More Manx Bands - Possanyn