Mera Royle

BBC Radio 2 Young Folk Musician Award 2018 Recipient
Mera Royle is an eighteen year old musician from Isle of Man. She has been playing whistle, fiddle and harp since the age of seven.

As Mera says, "There is a

...

thriving music scene on the Island and young musicians are given lots of opportunities to learn and perform traditional tunes. I love both the more traditional approach but I also like the way people often take the traditions somewhere new. I love the feeling of freedom that playing Manx and traditional music gives, allowing improvisation around a tune, and the way folk music brings people together to share influences and to encourage each other musically and socially.

Mera plays with lots of traditional musicians on the Island including flute player and tunesmith, Peddyr Cubberley and with friends in a band called 'Scran', which means 'peasants' in Manx Gaelic. Scran have recorded an album of traditional and original tunes which will be released in 2018, and have just finished working on an exciting and inspiring project with Scottish traditional music composer, Hamish Napier. Mera will also be recording more tunes later in the summer of 2018.

Speaking of the 2018 BBC Young Folk Award she has recently received, Mera said, "It was great to get the opportunity to go to Kendal to play at the BBC Radio 2 Young Folk Award weekend. All of the ten acts were amazing and I really enjoyed playing at the concert, despite an attack of the nerves! It was such a massive thing to be selected to go on from there, and then just immense to find out in Belfast that I'd won the Young Folk Award. You only need to look back through the list of past winners such as Talisk, Brighde Chaimbeul , and Mischa Macpherson to know it's a huge, huge honour.

The Young Folk Award has already brought some great opportunities and I'm really looking forward to playing at the festivals in 2018. I just want to carry on playing traditional music, but I also really enjoy composing tunes and would like to study composition for film/TV after finishing Sixth Form. I hope that music will always be a big part of my life."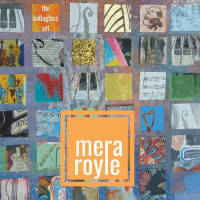 Awards
Recipient, BBC Radio 2 Young Folk Award 2018
Award from North American Manx Association 2017
Manx Folk Awards
Manx Music Festival past Award winner
Yn Chruinnaght Celtic Gathering (Isle of Man)
Edinburgh International Harp Festival
More Manx Bands - Possanyn