Clash Vooar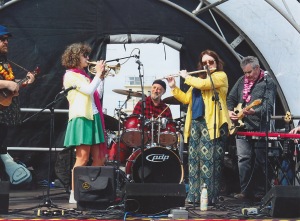 Clash Vooar is Manx Gaelic for 'Big Groove'. Their big groove has Manx language and culture at its heart, but reaches out to include a wide range of styles and influences telling old and new stories from the Isle of Man with soul, energy and originality.

During a musical collaboration in 2014, set up to explore the cultural legacy of Manx folklorist Mona Douglas, Manx Gaelic singer songwriter Aalin Clague joined forces with world music and jazz enthusiast Dave Mclean. Dave invited Aalin to join him in jamming some Manx grooves with the Buttimore brothers, Anglin and Simon. Aalin's other electro-folk collaborators 'Moot' came on board, with sampling, uke and vocals from partner Robert Cain and flute and vocals from longtime friend and cultural collaborator, Breesha Maddrell. In 2017, talented drummer Danny Kneale joined the gang.
Simon and Anglin are sadly missed, but their influence is still strong. Dave's grandson, Jack Mclean has taken on the Clash Vooar keyboards, something that Anglin, always an encourager of young talent, would surely approve.
Find out more on their Facebook page
More Manx Bands - Possanyn