Skeddan Jiarg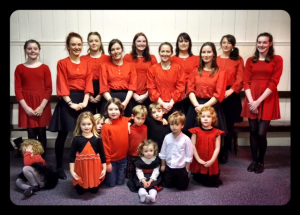 Skeddan Jiarg are a young Manx dance group led by Grainne Joughin. Based in Peel, the dancers range from toddlers to adults and they meet on Sunday afternoons at Peel.
In 2017 they received the North American Manx Association award for 'Outstanding contribution to Manx culture by a group of young people under the age of 25'.
The inspirational group have performed at various community events and festivals: Festival Interceltique de Lorient (Briyyany), Cwlwm Celtaidd (Wales), Lowender Peran (Cornwall), Yn Chruinnaght Celtic Gathering, Shennaghys Jiu, Celtic Congress conference and Cyclefest (Isle of Man), and wowed the audience at the 2018 Isle of Man Awards for Excellence.
The group is working with Culture Vannin and the Department of Education and Children to create online Manx dancing video tutorials to inspire more to learn Manx dancing.
For more info, email
More Manx Dance - Daunsey Tradishoonagh