Purt y Claarsagh (harp and flute)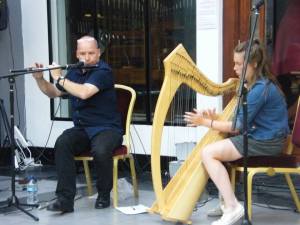 Traditional Manx Celtic harp & flute duo for weddings, christenings, corporate, social events and functions.
Biography
Amy Stoutt started playing the Claarsagh (Celtic harp) at around 9 years of age whilst at school under the guidance of Mike Boulton RBV who has encouraged thousands of children in traditional music over the years. Amy is now under the tutelage of professional Scottish harper Rachel Hair, who provides lessons through the Manx Heritage Foundation/Culture Vannin. She is one of the most promising of the up and coming traditional musicians of her generation and has honed her skills not only as a solo performer but also as a member of Ramsey based Manx traditional dance group Ny Fennee. In 2012 Amy appeared at the prestigious Festival Interceltique de Lorient in Brittany.

Peddyr Cubberley is one of the stalwarts of the Manx traditional music scene and has over 36 years' experience of performance at festivals and events throughout the Celtic world. A prolific exponent of the wooden flute, low & tin whistles, he is also a composer of contemporary Manx music in a traditional style and genre. Peddyr is one of the musicians who was at the forefront of the Manx cultural revival in the 1970s and in particular a member the seminal band Mactullagh Vannin who set the standard to which many of today's musicians aspire.
Together, Amy & Peddyr blend their skills and experience with the angelic graciousness and upbeat rhythmic accompaniment of the harp, with mellow, and at times punchiness of the flute to produce a rich and exciting sound that takes the traditional music of Mann to a new level leading the listener into a state of serenity and foot tapping tumult at one and the same time!
General Information
Tired of all those generic 'run-of-the-mill', middle of the road contemporary rock 'n' roll / pop bands and music? Then why not go for something different!
Ideal for your ceremony, reception, or evening function, Purt y Claarsagh can provide wedding music to add that perfectly ambient atmosphere for a distinctly different day with traditional Manx Celtic music. Offering an array of bespoke options, whether you go for traditional Manx sweet airs, beautiful melodies or even a procession into your wedding party, it will be delivered with great grace, sensitively, and gusto for a memorable and inspired occasion with a truly Manx theme.

When planning your dream wedding, a few things may pop into your minds - beautiful décor, champagne and an ambiance that would not be complete without musicians performing live music. For couples that are in the process of planning their perfect wedding, it is not an option to go with second best.

Based in the Isle of Mann, Purt y Claarsagh can offer you years of performance experience, both as individual musicians and working in ensemble settings. Purt y Claarsagh blend traditional Manx wedding tunes and customs with all the trappings of a 21st century wedding. Clients are guaranteed to experience the best music that is suited specifically to their wedding.

Purt y Claarsagh can offer you a variety of bespoke Manx Celtic traditional music. This enables the duo to provide music for the entire wedding day and not just one part of it. The diversity of Purt y Claarsagh's traditional musical styles makes the duo the best choice for your wedding entertainment.

PA Equipment can also be supplied for speeches and announcements using a top quality sound system and microphones that Purt y Claarsagh uses for performances.

Purt y Claarsagh always meets clients to discuss their needs and expectations. This eliminates any uncertainties and reassures clients that their wedding day will run smoothly with no unexpected surprises. We also recommend that if playing for your ceremony, that we be present during the wedding rehearsal.
More Manx Bands - Possanyn