Ruth Keggin - Gaelic singer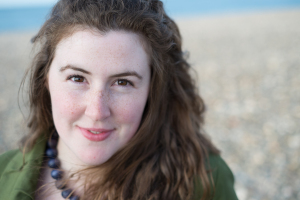 Ruth Keggin is a Manx Gaelic singer who is passionate about bringing Manx music and language to a wider audience. Her debut solo album, Sheear ('Westward'), which features traditional and contemporary Manx Gaelic songs, was released in February 2014 to critical acclaim. Her second solo album Turrys is out now.
Ruth and her band have given live performances and interviews on BBC Radio 3, BBC Radio Wales and 'Seirm' on BBC Alba (television), and Ruth has also been a feature-presenter for, and sung on, the BBC 2 television programme 'Coast'. She and her band have also shared joint-gigs with the likes of Scottish Gaelic supergroup Dàimh, renowned Gàidhlig singer Julie Fowlis and Irish singer Mary Black, and most recently Kathleen MacInnes, Blue Rose Code and Siobhan Wilson when performing at Celtic Connections 2016.
Ruth is also part of a bold new vocal project called 'Aon Teanga:Un Çhengey' (One Tongue) together with Scottish musician and broadcaster Mary Ann Kennedy and Eoghan Ó Ceannabháin – a sean-nós singer and musician. At one time, the Gaelic language was a single tongue. While there have been many moves to re-establish Scottish-Irish links in recent times, there has never been – until now – a project that unites the three Gaelic traditions. Part of PRS for Music Foundation's prestigious 'Beyond Borders' flagship programme, the group toured in summer 2015 and released their debut album in September 2015. They gave a miniature concert set on a special episode of Bruce MacGregor's 'Travelling Folk' on BBC Radio Scotland in November 2015.
Ruth also sings and plays flute with the collective Nish As Rish who won the Trophée Loic Raison for best new group at the Festival Interceltique de Lorient 2011. Nish As Rish toured Norway in Spring 2015. Past projects have included the Norwegian-Manx collaborative project which saw Ruth perform together with Norwegian singer Margit Myhr, hardanger fiddler Erlend Apneseth, Manx fiddle player Tomas Callister and Manx multi-instrumentalist David Kilgallon.
Recordings:
2016 - Sheear
2014 - Festival Interceltique de Lorient, L'album Officiel 2014 (compilation CD from the renowned Interceltic festival in Brittany, featuring a track from Ruth)
2014 - Sheear (Ruth's debut solo album, supported by Culture Vannin)
2013 - Sollys: Gaelic songs from the Isle of Man (compilation CD featuring two unaccompanied solos from Ruth)
2013 - Blass (compilation CD featuring Nish As Rish)
2011 - Nish As Rish
More Gaelic Choirs and Singers - Coryn as Arraneyderyn Gaelgagh