Celtic Culture celebrated
Thu, 11 Aug 2022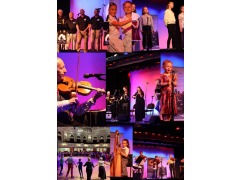 Celtic Culture Celebrated in a busy week of events
Printed in Island Life, Manx Independent 04/08/22
Yn Chruinnaght Celtic Gathering made a welcome return last week with jam-packed six days of events at venues around the island.
In addition to traditional concerts from choirs, folk groups, soloist and bands, artists and dance group performed throughout the week.
The Gathering has been celebrating Manx, Irish, Cornish, Welsh, Scottish and Breton culture for more than 40 years, but this was the first full festival in several years because of covid.
It kicked off on Monday evening at the Peel Centenary Centre with the pop-folk group Mec Lir.
Manx fiddle player Isla Callister then hosted special premiere night of 'Creeaght' on Wednesday, a project she has put together, influenced and dedicated to women who have shaped the history of the Isle of Man.
Meaning 'courage' in Manx Gaelic, 'Creeaght' is a suite of music that explores the stories, lives, experiences and legacies of courageous women, such as Sophia Morrison and Angèle Kneale, the women behind the campaign for Abortion Law Modernisation and 'Handmaids IOM'.
The music for the special concert was performed by an all-female group, including Katie Lawrence, Mera Royle, Kirsty Lawrence and Ruth Keggin, with spoken word from Annie Kissack.
The show also featured artwork by award-winning illustrator Jo Davies.
On Thursday visiting Irish violinist Frankie Gavin was joined by multi instrumentalist Catherine McHugh again at a packed Centenary Centre. They were supported by the stirring sounds of sea shanty harmony group, the Bryher's Boys.
Friday saw the action move to the Villa Marina for the 'Mega Manx Ceili', which featured performances from the visiting Welsh Pen y Fai dancers in addition to Manx dance group Skeddan Jiarg and Perree Bane, the Manx Fiddle Orchestra and the Ellan Vannin Pipes and Drums.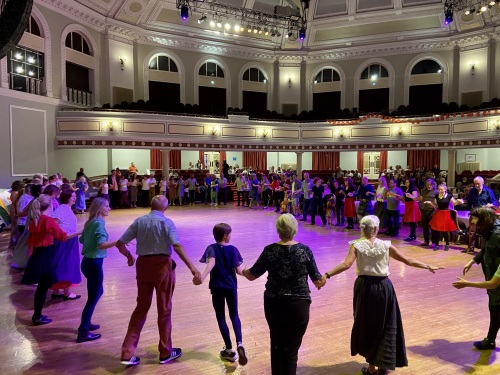 Finally, on Saturday night, reformed Scottish folk group Deaf Shepherd played their long awaited concert at the Peel Centenary Centre, supported by the Manx jazz folk group 'Tree ny Kiare'.
In addition to all of the above, there were also daily lunchtime sessions at Noa Bakehouse, in Market Hall, North Quay, Douglas, youth music sessions, talks and workshops.
It was the first time the festival has been held in the school holidays and the range of activities and concerts on offer proved popular throughout the week.
Organisers have welcomed feedback on this year's event on its CelticGatheringIOM Facebook page as they look ahead to the 2022 festival.