RESEARCH - The Musical Mews by Maurice Powell
Thu, 06 Jan 2022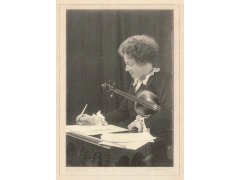 The Musical Mews by Maurice Powell
It was a piece in the Woman's Sphere feature, Isle of Man Times, 4 th April 1936, under the heading 'An Enviable Life', that aroused my curiosity and ultimately led to this article. The writer - Femina - wrote that she had recently renewed 'a friendship of many years standing' with Miss Jeremy Carter, 'who is engaged these days in modern journalism' and was paying a brief visit to the Island. 'She spends as much of her time as possible in Paris' and until the recent death of her partner, wrote for the foreign press there in three languages. Miss Carter was clearly a very versatile lady as four of her songs were due to be heard in various concert parties. It was the last line of the piece, however, that really caught my attention: 'She is a fully qualified music teacher, and years ago taught music in Douglas under her own name - Miss Blanche Mew'.
The three Mew sisters - Amy, Nella and Blanche - were already known to me through my research into Harry Wood and his Students' Orchestra as young musicians who, in various ways, contributed to the musical life of the Island. The eldest, Amy Mew, later Mrs H. Rushworth, most significantly as a highly respected piano teacher and accompanist; Nella Mew, later Nella Clague, as a young violinist in the 1890s and later as a respected local music teacher, and Blanche Mew, a very accomplished young violinist who left the Island before World War I to pursue a career in journalism.
Their father Henry Mew* was born in 1841 or 1842 in the City of London and was a military man, a Sargent in the 2nd Battalion/8th Regiment of Foot,** who married Jessie Mira*** Hodson then residing in Matlock in Derbyshire, at All Saints Church, Elton, Bury, Lancashire, in 1869.
photo - Blanche Mew