MAKE MUSIC DAY LAA JANNOO KIAULL 2021
Fri, 25 Jun 2021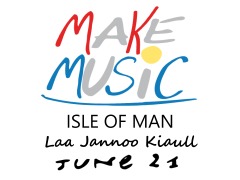 MAKE MUSIC DAY – LAA JANNOO KIAULL 2021
The Isle of Man embraced the international celebration of Make Music Day or 'Laa Jannoo Kiaull' on Monday 21st June with a variety of pre-recorded, scheduled and spontaneous live music performances.
The Henry Bloom Noble Library in Douglas hosted live performances from Chloe Woolley and her dad Frank who played a selection of piano duets, followed by a mini-concert of songs from the Mannin Ukers. David Kilgallon visited Andreas School to perform a range of different styles of music on violin and piano, Ellan Vannin Pipes and Drums took the streets to perform Manx tunes, Howard and Chris Caine plus friends sang rousing sea shanties on Douglas North Quay, and Mike Wade and Ian Allen closed the evening with an informal jam in the Whitehouse.
A special feature for this year was the international video collaborations. Manx youth group Bree took part in the 'Global Folk Challenge' exchanging folk music with a similar aged group from Sheffield. Through Culture Vannin, Bree released filmed performances of "Mr Weather" and "Waddington's Tune" and Sheffield group, The Folk Factory, played "Juan y Jaggad Keeir" to accompany a socially-distanced ceili dance composed by their younger members. Scottish traditional musician Chris Gray also took up the challenge to learn played "Juan y Jaggad Keeir" and filmed a new arrangement for piano.
Also in Scotland, Manx musicians Isla Callister and Mera Royle got together in person to perform "Graih Foalsey" and "Arrane Ben Vlieaun" for Laa Jannoo Kiaull as part of Isla's #ManxMondays series.
The Isle of Man Wind Orchestra took part in an amazing world-wide project organised by Beyond Skin, the John Cage Trust & Make Music Day UK. The orchestra was filmed on Tynwald Hill 'playing' John Cage's composition 4'33" for a collaborative film with musicians from Northern Ireland, Wales, Scotland, England, Singapore, Mexico, Portugal, Poland, Japan, China, Rajasthan, USA, Costa Rica, Afghanistan, Brazil, Colombia, Germany, Kenya, Zambia, South Africa and Sri Lanka. Composed in 1952 for any instrument or combination of instruments, Cage's score instructs performers not to play their instruments during the entire duration of the piece; 4 minutes and 33 seconds.
The Fecktones' frontman Andy North got involved in Make Music Day's international song swap project; #MySongisYourSong. All 200 participating acts from around the world had just two weeks to learn their partner's song and make it their own. Andy was paired with Australian band, The Chevaliers, who covered The Fecktone's lockdown song "When We Are Free" and Andy recorded their song; "She came with Cake".
Finally, Laa Jannoo Kiaull provided the ideal day to announce the winner of a new Gaelic anthem for Manx language month, Gaelg21. Composed by young Manx speakers Emily, Ned and Cristl, Culture Vannin's Bree students learnt the catchy song "Gaelg Aboo!", and released their video on Make Music Day.
Save the date – 21st June – for next year's Make Music Day!