RESEARCH Jean Curphey by Maurice Powell
Thu, 08 Apr 2021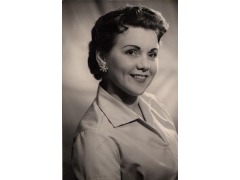 Jean Curphey
'Manxland's Ambassadress of Song'
by Maurice Powell
Jean Curphey was one of the finest, most successful and versatile singers the Isle of Man ever produced, an artiste whose voice was as charming as her personality was infectiously cheerful, and who endeared herself to many both on and off stage.
Jean Marguerita Alfreda Curphey was born on 19th March 1926 at the family home, Clifton House, Mona Terrace, Douglas. Her father Alfred (1889-1949) was the first caretaker and assistant at the new Manx Museum, although his role developed to involve a certain amount of conservation work and the organising and setting up of exhibitions.* Jean's mother Hilda May (1892-1974) was a supportive housewife who 'loaned' the museum several items from the family kitchen during the early years of the museum's history, some of which had belonged to her mother.*
Jean was attracted to music from a very early age. In her private autobiographical account of details and events from her life, she suggested that her earliest musical training took place 'in the womb' as her mother frequently listened to music on the radio or played gramophone records. Her mother later recalled that as a baby Jean would settle only whilst a gramophone record was playing, and that she would become increasingly restless when the mechanism wound down and required constant re-winding.
Jean attended Finch Road Convent School, an establishment known for its devotion to music and the arts. Her early hopes as a dancer were dashed when her teacher Mrs Rushworth advised that, despite a developed sense of rhythm, she might be better suited to a musical instrument or singing. Discouraging although this may have been at the time, it proved to be sound, even prophetic, advice, as she began to take piano and singing lessons from Agnes Corris.*
The earliest references to Jean Curphey in Manx newspapers date from 1936, but as a budding young pianist. Indeed, the first mention of her was in the Isle of Man Times, 9th May, when she passed her preliminary piano grade. Later that year in December, the Isle of Man Examiner recorded her success in the Associated Board of the Royal Schools of Music piano, Grade I examination as a pupil of Mrs Corris. The following year, now a pupil at Douglas High School, she appeared in a concert under the auspices of ABRSM at St George's Hall, Douglas, which was deemed to be 'a most enjoyable affair', although poorly attended due to an outbreak of influenza. In July she successfully passed her Grade II piano examination, and in October she entered the open piano solo under twelve years of age class at the Blackpool Music Festival held at the Winter Gardens and tied in seventh place with her performance of Giles Farnaby's Pawles Wharfe. More significantly, 'little Jean Curphey of Douglas' entered a singing class for the first time and sang Parry's children's song Rock-a-bye.*
READ THE FULL ARTICLE HERE