Manx National Anthem collaboration video
Fri, 03 Jul 2020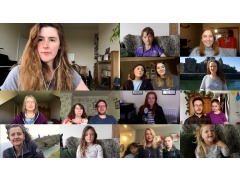 A new video of the national anthem in Manx will be launched by Culture Vannin to celebrate Tynwald Day!
During the lockdown, singers were invited to film themselves for a collaborative performance of the National Anthem performed in Gaelic.
Led by Gaelic singer Ruth Keggin, the project attracted singers of all ages, on and off the Island. The video features sisters Isla and Maeve Callister, children and parents from the Bunscoill Ghaelgagh, Aalin Clague and Breesha Maddrell from Clash Vooar, members of Caarjyn Cooidjagh, Cliogaree Twoaie and Lon Vane Ladies' Choir, Cairistiona Dougherty who is living in Glasgow and Christy De Haven a familiar Manx Radio presenter and singer who also keen to give the Gaelic version a go!
Dr Chloë Woolley, Manx Music Development Office, coordinated the project with colleagues at Culture Vannin: "The national anthem received renewed interest over the lockdown by singers and instrumentalists in the Isle of Man, but we realised that it is rarely heard in Manx Gaelic. Being distant gave us the surprising opportunity to come together, to celebrate our language & identity in song. It was a pleasure to bring these talented singers together virtually for this special collaborative video".
p.s. look out for the reprise from the 3-year-old!