Join Bunscoill Ghaelgagh to sing along with Mollyndroat, the lockdown musical
Wed, 27 May 2020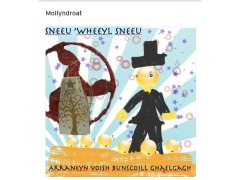 Join Bunscoill Ghaelgagh to sing along with 'Mollyndroat', the lockdown musical
One of the highlights of the Bunscoill year is the annual summer musical. They have a store of 7 original Manx Gaelic musicals written by Annie Kissack and Aalin Clague with modern and traditional songs on a variety of themes, which they perform on rotation, updating with each reboot to suit that year's cast or circumstances.
This year their re-boot has had to be quite imaginative as they are intending to rehearse, direct, record and produce a socially distanced audio musical. Children have already auditioned by video link, and are busy learning their lines and rehearsing via video conferencing technology. They've even roped in a few brave parents! Several of the songs from the CD are going to be re-recorded at home by musical families to give the show a new feel for 2020.
Would you like to get involved? Join the 'Un Choraa' Gaelic Community Choir group on Facebook to find links to the songs as performed in 2013 and access a 'learn to sing' playlist here.
One of the most popular songs sung by all of the children and audience members at each musical is "S'mie Lhiam Cappan dy Hey!" Learn the song with Bunscoill student Cristl here.
Get to know the songs, and tune in to Manx Radio at 6pm on Sunday 19th July for Claare ny Gael to enjoy and sing along with the show, at the start of the Virtual Yn Chruinnaght Celtic Gathering.