Arrane Ashoonagh dy Vannin - group sing video
Wed, 29 Apr 2020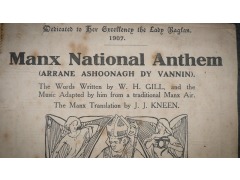 Culture Vannin are inviting singers to be part of a 'lockdown' group video of the National Anthem in Manx Gaelic (first and last verses only!) Would you be interested in ending us your video?!
Ideally, we need to get all the videos and audio collected in and edited together to release as soon as possible, so if you would like to contribute to the film, please send your file/s by the end of next Friday (8th May). Use www.wetransfer.com to send to this address: manxmusic@culturevannin.im
Choir conductors - please forward to any members you think would be interested in taking part.

Parents/families with young singers - it would be great to have you and your kids taking part too. Please read disclaimer below.

Bree & Scran singers - please check with your parents and make them the read the disclaimer below.

Households - feel free to sing your version together as a group, if logistically possible!
Ruth Keggin has kindly recorded this version for us all to follow in earphones HERE, and there is a short musical introduction to help you come in on time.
First verse: everyone to sing melody

Second verse: option to sing either the melody or a harmony part (see SATB music)
Arrane Ashoonagh dy Vannin (pdf of lyrics)
1. O Halloo nyn ghooie,
O chliegeen ny s'bwaaie
Ry gheddyn er ooir aalin Yee;
Ta dt' Ardstoyll Reill-Thie
Myr Barrool er ny hoie
Dy reayll shin ayns seyrsnys as shee.

8. Lhig dooin boggoil bee,
Lesh annym as cree,
As croghey er gialdyn yn Chiarn;
Dy vodmayd dagh oor,
Treishteil er e phooar,
Dagh olk ass nyn h'anmeenyn 'hayrn.
Here are some guidelines:
Use in-ear headphones, so that they're not too obvious in the film. Have the level as low as possible, to ensure that we can't hear it in the audio.

Film it landscape.

Have the camera level with your eye-line – not below! (This will normally mean a stack of books or the like to raise up your phone or computer!)

Use natural light. The best way to do this is to put your camera in a window, and you sit facing it. Never film in a dark room with the light behind you. Audio should be recorded from an external mic wherever possible. Audio can be recorded separately from the video and James can sew them together.

Formats can be anything, but the better the format the better – e.g. wav for audio, and 4K for film.

There are videos explaining it online. This is a very useful one: https://youtu.be/a2i-JwYufuA

If you have a good mic, please use it.

Sing along to the audio
There is a video example here of Ruth singing Password: ashoonagh (please do not share)
Spoken pronunciation assistance for Arrane Ashoonagh dy Vannin by Annie Kissack
DISCLAIMER FOR PARENTS OF CHILDREN WHO APPEAR ON THE FILM
1. By submitting your child's video, you give us permission to use all or part of your child's video performance.
2. By submitting your child's video, you also agree to the finished video project being shared through all forms of media, including social media.
3. We Transfer is a virtual way of transferring files. The process of uploading the file itself is completely encrypted. The link itself will expire after 7 days, although if you register an account with We Transfer, you have the option of manually deleting your own transfer after the file has been downloaded.
Gura mie mooar eu!!