Clash Vooar win place in Liet International Song Contest, Denmark
Wed, 08 Jan 2020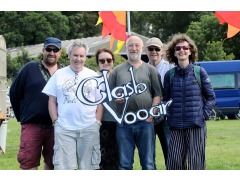 Clash Vooar win place in the Liet International Song Contest in Denmark!!
Manx Gaelic band Clash Vooar have been selected in a line-up of 20 participants for the 13th edition of Liet International 2020 on 3 and 4 April 2020 in Apenrade/Aabenraa, Denmark, with their song, Lhiggeyder Folley.
The entrants represent a variety of different regional and minority languages and contrast each other in musical style, with acts ranging from easy listening and jazz to rock. The participants in alphabetical order are: Band/Song/Language (Country) 63-72 Mein kleines Lied Synnejysk/German (Denmark) Bališ Spal bomo če smo hin Slovenian (Austria) Brother Sea Oll 'Vel Onen Cornish (United Kingdom) Bumbe Orchestra Cala Sinzias Sardinian (Italy) Carolina Rubirosa Sozinha Galician (Spain) Clash Vooar Lhiggeyder Folley Manx Gaelic (Isle of Man) Die Tüdelband Buten an't Meer Low German (Germany) Fiona Cavegn Mona Lisa Romansh (Switzerland) ISABELLE Waje de Litt Alsatian (France) Jimi Henndreck Nairobi Südtirolian (Italy) Juna Yashel Kuzle Tatar (Tatarstan) Luis Nuñez y los Folganzanes Tengo un sitiu pa ti Asturian (Spain) Marcas Mac an Tuairneir le Bogha-frois Dumbbells Scottish Gaelic (Scotland) Noctiluca Iaan Heligoland Frisian (Germany) Roger Argemí La fina línia Catalan (Spain) Saara Hermansson Mov laavlome South Sami (Sweden) Sequens Do bist frij Frisian (The Netherlands) Sølo Kærestesangen Danish (Germany) Turbokrowodn Mila moja Burgenlandcroatian (Austria) Zaman Aida Yanga Bashkir (Bashkortostan). Liet International is a Frisian (north of the Netherlands) initiative which was organised for the first time in the capital of Friesland, Ljouwert/Leeuwarden in 2002. Since 2006, the festival has travelled around Europe, and since 2008, under the patronage of the Council of Europe, Liet International attracts a lot of mediaattention – from BBC to Al Jazeera – and has grown to become one of the biggest events for the promotion of minority languages.
More information: https://lietinternational.com/