Invite to performers to fly flag for the Isle of Man in Brittany!
Tue, 08 Oct 2019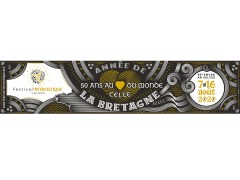 Festival Interceltique de Lorient in Brittany is the biggest Celtic festival in the world, and for over 40 years, the Isle of Man has been involved in showcasing Manx music, dance and culture to the rest of Europe. Next year's festival will be from 7 – 16 August 2020 and the festival is celebrating its 50th anniversary.
The festival's Isle of Man delegate, Grainney Sheard, is now inviting musicians and dancers to apply if they'd like to considered for next year. The festival favours acts who perform traditional music and/or dance from the Isle of Man, or artistes who perform in the Manx Gaelic language. Performers would also be expected to perform in the Manx Pavilion during the 10 day festival.
FIL is a wonderful experience and opportunity for performers. Travel, dorm accommodation and catering are provided by the festival.
If you or your group are interested in representing the Island at the 2020 Festival Interceltique de Lorient in Brittany, contact Grainney (Grainney.Sheard@gov.im) along with your promo pack (biog, photos, recordings, website, etc.) which will be passed onto the festival committee for consideration.
Deadline for submission: 1st November 2019