Competition for a new song in Manx
Tue, 05 Nov 2019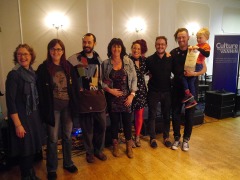 Win a trip to Ireland with your new song in Manx Gaelic.
The International Pan Celtic Festival will take place in Carlow, Ireland 14-19 April 2020, but before that, an original song in Manx Gaelic will be chosen to represent the Isle of Man. This heat will take place on Sat 11 Jan 2020 in Peel Masonic Hall, 7.30pm (free admission)
, so start penning a new ditty or translate your original song now!

RULES & INFO
• Your song can be rock, pop, folk, traditional - any type, as long as it's in Manx!
• Both lyrics and tune must be new and original, and not performed previously in a public competition
• Live group performance can include up to 6 people with no pre-recorded music or effects
• The adjudication is based on:
30 marks – lyrics (English translation or transliteration required)
30 marks – music
40 marks – performance (which doesn't need to include the composer)
Judges will also be looking for good Manx pronunciation and phrasing in the performance.
Translation and pronunciation help is available, so don't be afraid of singing in Manx for the first time!
Contact Manx delegate, Fiona McArdle, for more info and entry form: fmcardle@manx.net
Deadline for entries: 1st December 2019
Deadline for song lyrics in Manx, English translation & music: 28th Dec 2019.
Pictured: last year's winners, Drogh Yindys