New album from Caarjyn Cooidjagh
Mon, 17 Jun 2019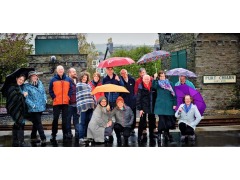 Caarjyn Cooidjagh turn the sound of wind into music
Experiencing the ever-changing weather on the face of the Sloc has inspired many of the songs included in a new album released by a Manx choir.
Caarjyn Cooidjagh, the unaccompanied choir, who sing in both Manx Gaelic and English, released their latest album, 'Ballakilpheric', their first release in more than 10 years, last weekend.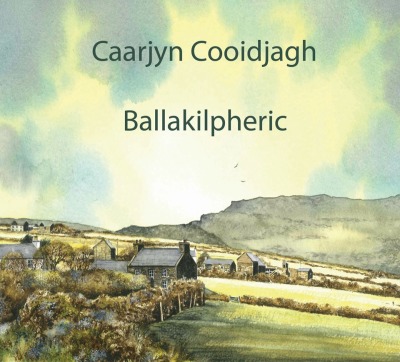 The 13 track album contains some new arrangements of traditional Manx songs, alongside many original compositions, written and arranged by the group's founder and leader Annie Kissack.
It was recorded in Annie's back room, at her house in Lamode, over a weekend by producer Gypo Buggane
'The title song itself, "Ballakilpheric", is about the changing seasons on the road up from Colby towards the hills,' said Annie.
' I live in the area around the Sloc, and a lot of my songs are set or influenced from around there.
'The weather has influenced me a lot, especially with living on the side of the hill.
'There is a mixture of traditional songs, such as our version of "Ny Kirree fo Sniaghtey", which means "The Sheep Under the Snow", and "Kiark Catreeney Marroo", meaning "Catreeney's Dead Chicken", which is a strange old Manx mock funeral song.
'But the majority of songs are original, penned and arranged by myself apart from one, "Berree Dhone", which was arranged by Aalin Clague.'
Annie said that she is inspired to write about interesting little stories about Manx folklore she picks up, and she also likes to seek out lost Manx tunes to marry her words to.
'When I started the choir, nearly 30 years ago now, I was just arranging some of the traditional songs that I thought would work.
'But over the years, we more or less ran out of the original Manx tunes and we made our own.
One such song which combines the weather and a piece of Manx folklore is "Ny Tree Geayaghyn S'feayrey", which is about the fabled giant Finn McCooill enigmatically naming the three winds he can feel, the winds that thaws, the winds that blow through holes and the wind in the sails.
'I try and research old lost songs and look out for clues and hints about old, traditional songs that may have been forgotten or over-looked.'
Many songs were originally written for the pupils at the Bunscoill Ghaelgagh, where Annie, Aalin and choir member Julie Matthews teaches, and then adapted and improved for the choir.
'Ballakilpheric' is available for £10, or as a download, priced £6, available from caarjyncooidjagh.bandcamp.com
(Original article from IOM Newspapers / photo by Bridge Carter)