PERREE BANE SUCCESS AT MANX MUSIC FESTIVAL 2019
Thu, 09 May 2019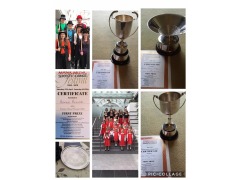 Perree Bane supported The Guild this year with a side of nearly 50.
20 children up to year 6 including a 2 year old and a 3 year old danced Daunse ny Moain and did very well against much older children. Perree Bane Aeg in years 7-13 entered 3 dances; the Breton dance, Avant deux Le Travers for 12 , Guilley Hesheree for 12 and Rinkey ny Guilleyn Baney; the six handed sword dance. Perree Bane Aeg competed in the same class as the Perree Bane adults and were very gracious about the adults gaining first place with a storming Morris Dance that they were taught at Lowender Peran in Cornwall in November, with an additional master class at Cwlwm Celtaidd in March. The afternoon finished with an adults class that Perree Bane also gained first in with an amazing mark of 90!
Report by Caroline Helps
OTHER GUILD NEWS
There was Manx music galore in the folk song and choir classes, fiddle, harp (24 entries!) and folk groups.
More results & photos: www.manxmusicfestival.org/