Manx Folk Awards 2019 success
Thu, 09 May 2019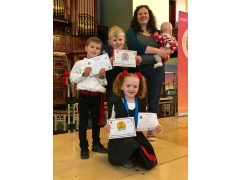 Last month saw the 8th Aundyryn Kiaull-Theay Vannin / Manx Folk Awards, and based on the number of entrants, the high quality of the traditional music, song, dance and recitation, and the smiles amongst the children, adjudicators and teachers alike, the annual competitions are evidently growing from strength to strength!
Held over 5 days in the Youth Arts Centre, Trinity Church and St Johns Methodist Hall, there were 80 classes, 22 Schools, 1,247 competitors 256 dances, 21 new music or dance compositions, 10 harpists, 8 brass players, 14 flautists, 86 Gaelic readers, 611 singers & 12 adjudicators!
* Folktastic prize-winners for outstanding performance contribution to this year's MFA* Xander Shirtliff - St Thomas' School - Skeddan Jiarg - Bunscoill Rhumsaa
The Manx Folk Awards are organised by DESC & Culture Vannin with the support of Manx National Heritage, Youth Arts and the Malcolm Scott Dickinson Charitable Trust.