NAMA nominations sought
Thu, 25 Apr 2019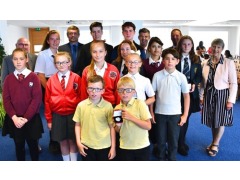 The North American Manx Association is seeking nominations for special young people who deserve recognition in the following award categories:
Outstanding achievement in:
1. Manx Music
2. Arts and Crafts which portray any aspect of Manx life or culture
3. Manx Language
4. Outstanding contribution to Manx Culture
a) By a student under the age of 18
b) By a student over the age of 18
c) By a group of young people under the age of 25
5. The Manx Community
a) An award to be made to young people who have made an outstanding contribution to the Manx community in general, either by their work for voluntary organisations or by their involvement with, and assistance to, people or groups of people who need special help such as the elderly or infirm and/or;
(b) An award to be made to a youngster with special educational needs or disability in recognition of his or her outstanding efforts in overcoming personal challenges, with the criteria here being a determination to contribute to the Isle of Man community, not for the triumph but for the struggle.
You are invited to submit recommendations in respect of the above. If you wish to submit names, please complete the nomination form
Deadline: Friday 10 May.
(photo - 2018 winners)