New song book inspired by natural landscape - A Quiet Way
Wed, 10 Apr 2019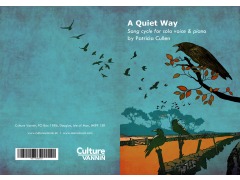 A QUIET WAY
Song Cycle for solo voice and piano
by Patricia Cullen
A new song book by local composer Patricia Cullen has just been published by Culture Vannin.
Consisting of six songs for voice and piano, A Quiet Way – Song Cycle for solo voice and piano evokes the composer's life-long love of nature and the beautiful landscape of her home in the Isle of Man.
Patricia said; "An island landscape, moors and glens to walk in, the birds in the garden and the changing season with incredible skies and shifting colours. This is where I drew my inspiration for A Quiet Way. Though each song relates to countryside or birds – the passage of time is evident."
The character of the songs has been visualised by Bruno Cavellec, who designed the stunning book cover.
Musicians and non-musicians alike can enjoy listening to the new songs for free: Featuring well-known Manx contralto Mandy Griffin, with Patricia on piano, and guest flautist, Simeon Wood, recordings of the whole song cycle are available to listen to on the Culture Vannin SoundCloud
Patricia Cullen trained as a pianist and harpsichordist at the Royal Northern College of Music and the Royal Academy of Music and she has enjoyed a successful career as a performer, composer and accompanist.
She has given many piano and harpsichord recitals around the world, both as a soloist and as a member of ensembles, and her performances of early music have been featured on BBC Radio 3.
When at home in the Isle of Man, she is a member of the Baroque chamber music group, the Wren Consort, and an official accompanist to the Manx Music, Speech and Dance Festival. Her musical-drama piece, Pathway to the Sun, was premiered to great acclaim in 2014. She has also composed a set of solo songs called Departures, and Christmas songs, "The Shepherd's Tale" and "The Lonely Path", which are available to download on: www.manxmusic.com
A Quiet way is £8.50 RPP and is available to buy in the Culture Vannin shop and online, and other bookshops in the Isle of Man.