Winners of the Arrane son Mannin 2018-19
Tue, 05 Feb 2019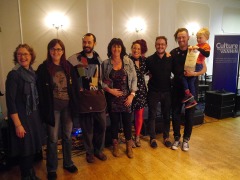 A large and enthusiastic audience enjoyed a great Manx concert and New Song in Manx Competition on 12th January at the Peel Masonic Hall. Musical entertainment was provided by Bree as people came in at the start of the evening and the concert itself then began with Ealish Kilgallon (age 7) stealing everyone's hearts with her singing of ' O, S'feayr yn Oie (How Cold the Night). Owen Williams and his friends Sarah and Jack played and sang a lively set of tunes. Due to school exam commitments they were unable to enter the song competition this year as the Pan-Celtic Festival in Easter week in Letterkenny coincides with the start of school term and external exams. Next year!
Mera Royle, BBC Young Traditional Musician of the Year 2018, then played a mesmerising set of tunes on her harp, demonstrating all the skill which gained her the title. Caarjyn Cooidjagh Gaelic choir sang a selection of songs from their repertoire, conducted by Annie Kissack, who later swapped roles from choir conductor to become the current Manx Bard when she gave the audience a recitation of two of her works, one of which was a 'rant' about the littering of the Manx countryside, which proved very popular with a sympathetic audience.
Traditional instrumental music was played by duo Peddyr Cubberley on flute and whistles and Malcolm Stitt on guitar, who will be going to play in the Pan-Celtic Festival, while Matt Creer and Josephine Evans played some lovely new music, composed by Matt and available on his new CD 'Patient Steps'. Matt had intended to enter the new song competition and had two songs in Manx translated for him by Bob Carswell but, alas, the Pan-Celtic this year with a late date for Easter clashed with his prior musical commitments in Mann.
Just when all seemed lost, the Callister clan from Kirk Michael stepped into the breach as Drogh Yindys with a song composed in English by John 'Dog' Callister and translated by Phil Kelly R.B.V. which was sung by husband and wife team Juan and Jo Callister, with sister Jo Callister playing low whistle and Katie Lawrence on piano playing the tune she had composed for 'Yn Faageyder – Leaving Thee'.
The three adjudicators were impressed by the catchy tune and poetic Manx and so the £300 prize money, sponsored by Culture Vannin. went to the group who will represent Mannin in competition against the other 5 Celtic countries – Alba (Scotland), Breizh (Brittany), Cymru (Wales) Eire (Ireland) and Kernow (Cornwall) in the Pan-Celtic Inter-Celtic New Song Competition on Thursday 25th April in Letterkenny, County Donegal. Aigh vie orroo!
Report by Fiona McArdle / Photos by Bob Fennell
Link to article by Val Caine