Everyone was Maynrey at the 2017 Bree workshop weekend!
Fri, 03 Nov 2017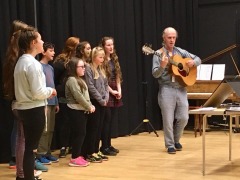 Everyone was 'Maynrey' at the 2017 Bree workshop weekend!
Last weekend, students from different corners of the Island came together at Douglas Youth Arts Centre for the 11th annual Big Bree Workshop Weekend. Under the tuition of Caitlin Bennett, Caroline Helps, Cairistiona Dougherty, Cinzia Yates, Greg Joughin and Chloe Woolley, the talented youngsters enjoyed an intensive two days getting creative with Manx culture, including an impromptu outdoor ceili!
The workshops had a Hop tu naa theme this year, and culminated in a showcase concert on the Sunday afternoon. Pharrell Williams (or should it be Quilliams?!) would've be very impressed by the opening number of the concert - led by top Mollag, Greg Joughin, all of the Bree students and tutors performed hit song, Happy... but in Manx! With lots of happy clapping and vocal harmonies, Maynrey got the audience in the mood for a 'fabulous' (quote from one of the dads) concert!
The folk group took to the stage next, with Manx trad tune, "Hie Mee Stiagh" and they were followed by the Bree Singers with "She Lhong Honnick Mee". Next up was the fiddle group, Ny Fiddleryn, who performed two pieces from the Fiddyl book - dance tune "Eunyssagh Vona", followed by Katie Lawrence's beautiful piece "Tune for Grandad" which left a few people teary-eyed in the audience. A group of singers then came on with "Jinny the Witch" (sung to a new tune composed by Caz Dougherty) & "Hop tu naa" in Manx Gaelic. A highlight of the concert was "Jinny the Witch - the play" with atmospheric incidental music composed and performed by the Bree pit orchestra. Taking the true story of Joney Lowney as inspiration, the Bree actors had improvised a play about the 'great witch' who was sentenced for witchcraft in 1717. The show ended up with a gruesome twist on the White Boys Dance (chainsaws were swapped for swords!) and all of the Bree dancers, singers and musicians joined in for the Hop tu naa grand finale.
Big thanks to the voluntary tutors, the Youth Arts Centre, Jo Callister for spooky face-painting and Ronnie and Anita Corkish who documented the whole weekend on film and in photos (to be released online soon!) Bree will next meet on Sat 11th November for an informal music session, and then the group will be busking in aid of Mooinjer Veggey Gaelic nurseries at Peel Christmas market on Sat 2nd December.
Organised by Chloe Woolley for Culture Vannin, Bree is open to young musicians, singers and dancers aged 10-18.