NAMA awards for Manx music and dance
Tue, 08 Aug 2017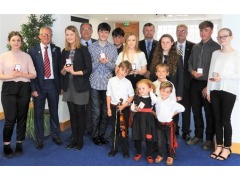 NORTH AMERICAN MANX ASSOCIATION AWARDS
Young achievers who make a valuable contribution to Manx culture and society were honoured by the North American Association (NAMA). Each year, NAMA presents awards to under 25-year-olds nominated by the public and schools for their creativity, community involvement and commitment to learning. Judges this year were Aimee Corlett, President of the World Manx Association, Anne Minay, Life Member of NAMA, and Professor Ronald Barr, Chief Executive Officer of the Department of Education and Children. Graham Cregeen MHK, Minister for Education and Children, welcomed guests to the presentation ceremony at the Tynwald building.
The Minister said: 'The Island's young people continually demonstrate their talent, hard work and willingness to help others.'The young people rewarded here today are a credit to Manx society. I'd like to thank NAMA for its long-standing commitment to rewarding and recognising our young achievers.' The award winners received specially minted silver medallions from NAMA life member David Holmes – were. President of Tynwald the Hon Steve Rodan MLC gave the vote of thanks.
Winners relating to Manx music and dance: Outstanding achievement in Manx music:
Mera Royle, 17, Ramsey Grammar School Mera is described by her nominator as 'breathing, sleeping and eating' Manx music. An accomplished harpist and violinist, Mera has performed both as a soloist and in ensembles across the Island and in the UK. Performing with Scran (part of the Bree Manx music group), Mera came second in 'The Next Big Thing' competition at the Gaiety Theatre. She has been heard on Manx Radio alongside Peddyr Cubberley and Pullyman and has participated in the National Theatre Competition. She plans to study music at university.
Outstanding contribution to Manx culture by a group of young people under the age of 25:
Skeddan Jiarg This young Manx dance group, led by dance tutor Grainne Joughin, practices every Sunday in Peel. Formed just two years ago, Skeddan Jiarg has grown rapidly and inspires new generations to get involved in Manx dance. The group have performed at various community events and festivals: Cwlwm Celtaidd (Wales), Yn Chruinnaght Celtfest, Shennaghys Jiu, the Celtic Congress and Cyclefest . This autumn, the group will represent the Isle of Man at Celtic festival Lowender Peran in Cornwall. The group is working with Culture Vannin and the Department of Education and Children to create online Manx dancing video tutorials to inspire more to learn Manx dancing.
Find out about all the other winners here
Watch MTTV feature