Opening of new Manx Cultural Centre
Tue, 08 Aug 2017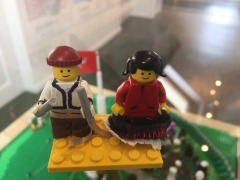 Culture Vannin has opened its doors to a new exhibition and cultural centre in St Johns. Inside, locals and tourists can find out about 'thing sites' like Tynwald around the world, look at old photos of St John's, learn about calendar customs, music, dance and language, Manx cultural heroes, see how Tynwald works, and check out the Lego model of Tynwald Day.
Visitors can also watch videos of Manx dancing, listen to songs and tunes, and flick through reference books in the library area. Younger visitors can choose from colouring-in, dressing up (including mini Manx dance costumes!) and playing with Lego which can be added to the Tynwald model - there are even some mini lego Manx dancers customised by Caroline Helps from Perree Bane!
As well as having an iPad/listening bench, the language, music and dance room features an amazing mural by Manx artist, Adam Berry, and this area will be used for harp lessons, lending library, conversational Manx, etc.
Culture Vannin also has a shop selling their books and CDs, many of which relate to music and Manx language. The cultural centre would not have been possible without a generous legacy linked to the Manx language from Professor Brian Kaneen of Canada. The exhibition space has been developed through the additional assistance of the Elizabeth Clucas Charitable Trust and Isle of Man Tourism.
Culture Vannin is incredibly proud to share the talents of Manx creatives within the exhibition space.
Visit Us! - Cur shilley orrin! Culture Vannin, Fairfield House, Main Road, St. John's IM4 3NA Opening times: 9.30am-4.30pm weekdays / Free admission
Watch the lego Tynwald being built to the soundtrack of Flitter Rock Ballad by Strengyn