WHAT A LIFE! Music from the WW2 Isle of Man Internment Camps
Wed, 03 May 2017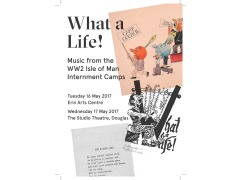 WHAT A LIFE!
The Royal College of Music and Ensemble Émigré stage a unique concert with music composed on the Isle of Man. This event will present music written by German and Austrian refugees in the WW2 internment camps on the island to cheer up themselves and their British hosts alike. The bilingual revue 'What a Life!' by Hans Gál, a moving and humorous piece of musical theatre inspired by real life in the camps, was performed to enthusiastic audiences in the Palace Theatre in Douglas in 1940 and can now be heard here again for the first time.
Made up of professional soloists and some of the brightest talent from the Royal College of Music, the group of 12 singers and instrumentalists led by German tenor Norbert Meyn also presents chamber music that evokes the beauty of the Manx countryside, including 'Mooragh' by Ramsey internee Peter Gellhorn and Manx Dance Tunes arranged by W.H.Gill, as well as popular Isle of Man tunes like I'm a Native of Peel and Has anybody here seen Kelly.
Watch interview with Professor Norbert Meyn:
VIDEO
Tuesday May 16, 7.30pm ERIN ARTS CENTRE, Port Erin, £10, (u18s £2,-) call 01624 832662 to book
Wednesday May 17, 7pm, THE STUDIO THEATRE, Douglas, £12 (concessions £10, £5 under 16), book through Villa Marina hotline 01624 600555 or online at
https://www.thestudiotheatre.im/what-a-life-music-from-the-isle-of-man
The ensemble will be joined by talented students from the Isle of Man for this performance. Refreshments available for a donation.
This project is kindly supported by the IOM Arts Council, Culture Vannin and the Malcolm Scott Dickinson Charitable Trust.
Visit the Royal College of Music website for information about Émigré musicians in Britain.
www.rcm.ac.uk/singingasong