Music programme at Cyclefest
Wed, 03 May 2017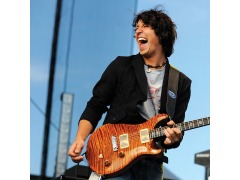 ISLE OF MAN MUSICIANS TAKE CENTRE STAGE AS THEY BRING YOU ELECTRIC BLUES, CELTIC, ROOTS AND WORLD MUSIC!
Gathering together young emerging talents with some of the Island's most successful musical exports, this year's Isle of Man Cyclefest presented by Isle of Man Bank has a truly impressive line up of Isle of Man musicians.
After finishing off the Festival in 2016, MEC LIR are back to kick things off on the PokerStars Stage in stunning style. With a line up boasting Tom Callister and Adam Rhodes (Imar) David Kilgallon (Chronicles) and Greg Barry (The Elephant Sessions), Mec Lir have forged a real following with their fresh approach to traditional music and they're fast becoming festival favourites around the world. And with some new tunes ready to be unleashed, the message from the Cyclefest team is simply don't miss them!
Later on Saturday, the PokerStars Stage welcomes DAVY KNOWLES, back on the Isle of Man for a spectacular homecoming gig. Part of the 'Three Miles to Avalon' European tour, Davy will be taking to the stage with his regular US based band to showcase a new collection of songs in what is simply an unmissable show. Expect vintage blues, gutsy guitar riffs and plenty of Davy's famous fretboard fireworks! This could well be the gig of the year!
Sunday's headliner is no less impressive: Jamie Smith's MABON are consistently celebrated as one of the UK's outstanding roots acts. The 5-piece band of virtuoso musicians, including the Isle of Man talents Jamie Smith and Paul Rogers, have spent several years performing throughout the UK, Europe and further afield and are renowned for their blistering live shows. Filled with energy, joy and real passion, MABON's sound is an irresistible blend of world music and Celtic roots, and bicycle lovers at Milntown can even enjoy the inspired sound of Brittany and northern Spain, those most famous of cycling regions. The perfect way to end the weekend's action!
Meanwhile, Cyclefest will play host to a number of award winning artists and festival favourites with more of the sound of Mann to be found both days on our Village Stage, which is kindly supported by Isle of Man Arts Council.
Supporting Mec Lir and playing on Saturday morning are SCRAN, stars of this year's Next Big Thing. The young eight-piece originally came together through BREE – the Island's excellent educational movement for traditional music and dance – and boasts the talents of Raygie Dolloso, Jack McLean, James McNulty, Aerin Roberts, Callum and Fraser Rowe, Mera Royle and Owen Williams. Scran certainly know their roots, but they are not afraid to mix things up and give everything a cheeky youthful twist!
Former BREE student Isla Callister also makes a very welcome return to Cyclefest, this time with her new group TRIP who perform on Sunday afternoon. All currently in their first year at the Royal Conservatoire of Scotland, the six members of TRIP seamlessly mix the cultures and traditions of Scotland, England, Ireland and the Isle of Man.
Along with versatile accompaniment by fellow Scots, Rory Matheson (piano) and Craig Baxter (bodhran), TRIP's combination of melodies from Manx fiddler Isla Callister, Newcastle accordionist Michael Biggins and Sligo flautist Tiernan Courell go to produce a powerful, driven and energetic sound, with Lewis singer Mairi Maclennan adding her beautiful vocals to the group's armoury. Arguable a group with a Manx heart, TRIP are six exciting young musicians you should not miss!
Tickets for Isle of Man Cyclefest are on sale now at www.iomcyclefest.com and if you order on line before the end of April, you can enjoy a 10% discount.
WITH THANKS Isle of Man Cyclefest would like to take this opportunity to thank Culture Vannin for their valuable support in promoting Manx traditional music, and also Isle of Man Arts Council for their kind support.