Matt Creer wins New Song in Traditional Style at Pan-Celtic!
Wed, 03 May 2017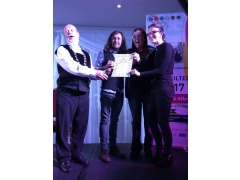 Pan-Celtic Festival, Carlow ~ 8-23 April 2017
This year's Festival got off to a great start with a lively Inter-Celtic Opening Concert in the George Bernard Shaw Theatre in the 'Visual' Centre in Carlow where the Island was represented by four members of Cliogaree Twoaie, Margaid Bird, Clare Kilgallon, Fiona McArdle (all members of the Pan-Celtic Mannin Committee) and Gordon Dickens.
On Wednesday it was the turn of traditional singers, both groups and soloists, where the Matt Creer Band, Matt himself with Jo Evans and Katie Lawrence, did the Island proud by winning the New Song in Traditional Style, which forms a part of the whole competition.
Thursday was a busy day for the Manx with the Matt Creer band, together with Biskee Brisht and some Manx Gaelic speakers held a lunchtime 'Cooish as Kiaull' in one of the Carlow pubs.
This was followed by the big event of the week where the six Celtic nations each put forward their national winning new song in an Inter-Celtic competition. This year's event had some very good original entries, and although the competition was won by the Irish entry this time, Biskee Brisht performed their upbeat 'Nagh Abbyr Smoo' (Say No More) with excellent singing from Ruby Biscoe-Taylor, backed by her group with guitar, concertina and two trumpets. If you'd like to buy the songs, both Biskee Brisht (Facebook) and Matt Creer have their songs in Manx and English for sale on C.D. or download.
Following on that same day there was a Manx – Cornish evening of entertainment which had some fine musical performances and some ceili dancing. Our friends, the Bretons, had their Presidential Year this year so they produced their own programme of entertainment, while 2018 will see the Year of the Manx Presidency with Clare Kilgallon as President.
Friday was the last full day for the Manx in Carlow with more relaxed sessions and performances in one of the Carlow hostelries where the manager loves Manx music since last year's visits of Glashtin and Mec Lir.
The Mannin Committee are most grateful for the continuing financial assistance of the IoM Arts Council (Biskee Brisht) and Culture Vannin (Matt Creer Band) which helps to spread the appreciation of Manx culture among the other Celtic nations and further afield.
Looking forward to 2018 and 2019 the Pan-Celtic Festival will be in Letterkenny, Donegal.
You can keep up to date at www.panceltic.ie
Report by Fiona McArdle (Photos by Bob Fennell & Pan-Celtic)
If you enjoyed Biskee Brisht's Pan Celtic song "Nagh Abbyr Shen", you can buy it on
bandcamp
or message them if you'd like a CD: