Tributes to 100 year old folksinger Laurence Kermode
Fri, 03 Jul 2015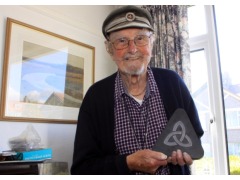 Edward Lawrence Kermode 1st April 1915 – 8th June 2015
Tributes have been paid following the death of centenarian Laurence Kermode, the oldest competitor even to win a class in the Guild.
Manxman Mr Kermode, a professional toast master for 50 years and a regular competitor in the Guild, was a born entertainer who loved the limelight.
Last month, he became the oldest person to compete in the Manx Music Festival.
He took to the stage to loud applause for the Folk Song class.
Before singing Cockles and Mussels he told the audience: 'Silly old fool trying to sing in the Guild. What's he going to be up to next?!'
He scored 87 in that class, and then went on once again to win the Works of T.E. Brown class.
Laurence, a retired printer for the Isle of Man Times and Isle of Man Examiner, had celebrated his 100th birthday in April with a party at Douglas's Masonic Hall attended by Lieutenant Governor Adam Wood.
Veteran journalist Terry Cringle said: 'I've known Laurence since I was a young reporter on the Examiner.
'This was when he was master of ceremonies at grand dinners and social occasions. He was always perfectly dressed and conducted the event with great authority and panache.
'He loved the limelight. He was multi-talented - he could sing, he could recite and his tremendous accolade at the Guild was being the first 100 year old winner.
'There was an open invitation to his 100th birthday party. There must have been nearly 300 people there. He lived life to the full. He never seemed to get old.'
Laurence 'Laurie' Kermode was born on April 1, 1915, in 62 Malew Street in Castletown, and brought up in Liverpool.
He married Mona Sayle, with whom he had two sons, Nigel and Paul. Mona died in 1985.
Article & photo from: http://www.iomtoday.co.im/news/isle-of-man-news/laurence-kermode-dies-at-age-of-100-1-7303130
Laurence was also the grandson of 'Bwoie Doal', Tom Kermode, the legendary blind singer who contributed the majority of Manx Gaelic songs to collector Dr John Clague in the 1890s. Laurence inherited his grandfather's singing talents, and he performed in the folk clubs for many years in trio Mike, Al and Laurie singing well-loved songs such as The Laxey Wheel.
Listen to an interview with Laurence