MANX FOLK AWARDS 2015
Tue, 03 Feb 2015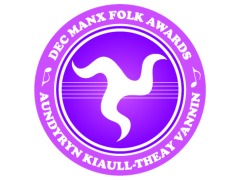 Aundyryn Kiaull-Theay Vannin ~ The Manx Folk Awards
Monday 23rd to Wednesday 25th March 2015 at the Douglas Youth Arts Centre.
Manx Folk Awards – syllabus
Organised by DEC, Culture Vannin and Manx National Heritage, the Manx Folk Awards are always held the last week before the Easter holidays. This is so you can enter the Guild (Manx Music Festival 24th April - 2nd May 2015) with the same entries which should make your life easier! And also because at the end of that week the Shennaghys Jiu festival is held. This is a non competitive youth festival and is held the first weekend of the Easter holidays.
The Manx Folk Awards are a very informal competition and we are always looking to encourage Schools to take part for the first time. We are able to come in and help out teaching simple dance steps, tunes and help with Manx pronunciation. So there's no excuse not to get involved!
While the KS2 competitions have gone from strength to strength, we are still looking for more KS1 and Foundation Stage pupils to get involved. The emphasis is always on fun and everyone gets a sticker or a badge. If you are not sure whether your young ones could take part, check out the video below to see how much fun everyone has!
NEW composing competitions – as well as a class for a new tune in the Manx idiom, there is now a class for a new song (or new lyrics to a Manx trad tune) or new in Manx or English.