Matt Creer - new album 'The Leeward Tide'
Tue, 03 Feb 2015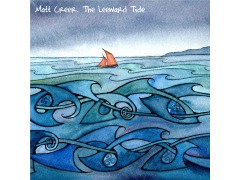 Local singer-songwriter Matt Creer's new album of original songs will be released soon. The album 'The Leeward Tide' features a plethora of talented musos from the Island, including folkies such as Ruth Keggin, Katie Lawrence and Malcolm Stitt.
Former student of the Royal College of Music in London, Matt Creer has established himself as an exciting emerging voice on the UK music scene. The Manx singer songwriter's music merges folk traditions, with warm, rich layered arrangements that has created a sound of his own. Local artist Nicola Dixon provides a beautiful album cover.
Here's a video of the opening track "North Northwest".
Listen to the song and pre-order your copy of the album here.
And read this pre-release interview with Matt:
MATT CREER ~ FORTHCOMING GIGS:
Fri 6th February, Laxey Working Men's Institute., 7.30pm Matt Creer followed by the Rushen Players performing 'Knot Guilty' (a one act play with adult themes). £4 entry on the door. More info: 231223
Sat 21 February, Port St Mary Town Hall., 7.30pm Matt Creer and Chris Gray Soft drinks and light refreshments available or BYOB. Tickets £5 on the door or in advance 833025. Hosted by Southern Befrienders