THE BIG BREE WEEKEND...
Mon, 09 Dec 2013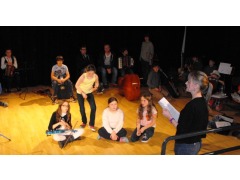 2 & 3 November saw a fantastic celebration of Manx traditional culture at the MHF Big Bree workshop weekend at the Youth Arts Centre in Douglas. Students aged 10 to 18 and from various schools, gathered to learn Manx Gaelic songs, tunes and dances from some of the Island's top traditional music and dance tutors.
Highlights included the newly formed Bree Choir and Folkestra, and an 'A to Z of performance skills' from tutors Annie Kissack and Clare Kilgallon!
The workshops culminated in a impressive afternoon concert, which featured all of the Bree students singing Katie Lawrence's new choral arrangement of "Irree ny Greiney" and "Yn Aavioghey", a newly composed dance for 4 called "The Grasshopper", lively instrumental sets, The Bree Players performing a hilarious adaptation of the play "The Man from Ballasalla", an onstage ceili for the audience, and a grand finale with the 1960s classic "Do Ron Ron" in Manx Gaelic performed by the Bree Folkestra!
Organised by Chloe and Breesha from MHF music team, Bree get together once a month for sessions, workshops and informal performances. Students can join up at any time throughout the year – just get in touch.
www.manxmusic.com/education_page_92022.html