HOLDEN, Willie (1879 - 1972)
Willie Holden and the Holden Family of Musicians
by Maurice Powell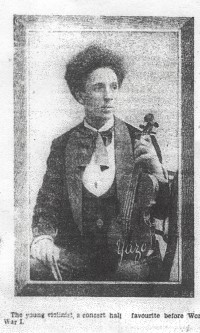 On an unseasonably warm afternoon in February 1961 an interview took place at number 3, Cowells Terrace, Ramsey, between the writer of the Northern Notebook feature of the Isle of Man Times* and a sprightly, 'bushy haired' eighty-two-year-old gentleman, who, it quickly transpired, had a fascinating story to tell that stretched back to the 1880s.
* Isle of Man Times, 27.02.1961
Born in in Bury in January 1879 and baptised during the registration quarter of January-March, William 'Willie' Henry Holden* had retired to the Island two years earlier after a long and varied career as a violinist and musical director. In fact, he was proud that he maintained a repertoire of eight concertos and several shorter violin pieces, and still played for two hours each day on his two-hundred-year-old Italian violin.
* He was also referred to as 'Bill' or 'Billy' in newspapers reports from the 1960s and'70s.
'Willie' Holden recalled that he had learned the violin at a very early age and had first played in public at the age of eight.* He may have been a violin pupil of Harry Wood in Douglas, and of John Dunn,** one of the most prominent English violinists of the Victorian and Edwardian period, who was a frequent visitor to the island. From 1892 aged just fourteen, 'Willie', became the conductor of the orchestra at the Theatre Royal, Garston, near Liverpool.***
* In an interview he gave to the Ramsey Courier from his home, San Remo, Coburg Road, Ramsey, dated 21.03.1969, he recalled that he first took up the violin at the age of five, and made his concert debut at Hope Hall, Liverpool, at the age of six.
** In an extract from the Eastern Daily News from Norwich, cited as an afterword to his obituary, Isle of Man Examiner 12.05.1972, the writer (A.G.W.) states that Willie Holden had been taught by four violin teachers including John Dunn (1866-1940), famous as an interpreter of the music of Paganini, who gave the first performance of Tchaikovsky's violin concerto in England in 1902.
*** See Valerie Grace Crennel Kinrade, Music of the Isle of Man Tourist Industry 1870-1970, dissertation, University of Liverpool, July 2009. Originally the Garston Royal Palace of Varieties, the Theatre Royal, Garstang, was a former warehouse opened in September 1892, closed in 1895 and re-opened as the Theatre Royal in 1896. In 1903 the theatre became a billiard hall, and later the Garston and District Co-Operative Society's furnishing department.
During the Isle of Man Times interview cited earlier 'Willie' Holden recalled playing with Haydn Wood, although whether this meant simply 'playing' as children or implies that he and Haydn Wood played the violin in Harry Wood's orchestra at the Derby Castle or took part in Harry Wood's Student Orchestra concerts is open to conjecture. In an interview with the Ramsey Courier in 1969 cited earlier he recalled that he was 'with Harry Wood for some time'.
As a young man he became an orchestral leader and later conductor with the Moss Circuit Theatres for twelve years.* At a period when an evening at a music hall might well have included early 'silent' films, he in all probability performed 'novelty' violin solos between films and was certainly conducting his orchestra when such huge stars as Marie Lloyd, Vesta Tilley, Eugene Stratton and George Robey were on stage.
* Moss' Empires Limited was formed in 1899 by the amalgamation of several smaller companies, mainly in Scotland and the North of England, Cardiff, Swansea and London, by entrepreneur Edward (H. E.) Moss, specialising in variety and films in the shape of the American Bioscope. The best-known theatre in the chain is the London Palladium, opened as the London Palladium Music Hall in 1910.
'Willie' Holden later toured throughout Britain and America as the resident novelty or 'trick' violinist with the illusionist Chung Ling Soo* and earned the nickname 'Yazo' – maybe after Yazoo City, Yazoo County, Mississippi - during which time he claimed he wrote some sixty violin pieces. He also appeared as 'Yazo' at the Norwich Electric Theatre, which, in its earlier days was as popular for variety entertainments as for films.**
* Chung Ling Soo, real name William Ellsworth Robinson, an American, who had learned his craft in Brooklyn, New York, as a magician's assistant and carefully developed his mystical Chinese stage persona in order to enhance his reputation, was fatally wounded at the Wood Green Empire in 1918 during his signature bullet catching trick.
** Isle of Man Examiner, 12.05.1972. Originally part of a chain of Electric Theatres in East Anglia, the cinema was taken over by Eastern Counties Cinemas Ltd. in 1934 and was subsequently renamed the Norvic Cinema. It was demolished in 1961.
His last position before returning to the Island was as musical director of the New Theatre Royal, Norwich, for twenty-one years from 1935-56, conducting for opera, operetta, ballet, musical theatre and pantomime, and previously, between 1918-35 at the Regent (Theatre) Yarmouth. At the close of his long career he played in various BBC orchestras.* Willie Holden died in 1972 in his 94th year. His obituary referred to him as 'a gentle and kindly man who lived a life of music from childhood . . .'
* Kinrade ibid.
The Celebrated Miniature Grand Orchestra
Thus far 'Willie' Holden's story is certainly an interesting one: a young musician from Douglas enjoys a varied career in Britain and elsewhere and eventually retires to the Island. Yet there is more, for as a young boy, he was a member of the well-known Holden Family Orchestra that played at the Belle Vue Pleasure Grounds* the on the outskirts of Douglas and at the Injebreck Pleasure Grounds during the 1880s and '90s.
* Opened in 1888 on the site of the Manx Fair Ground, one year later it was described as 'the largest and most varied place of amusement on the Island' comprising some twenty acres including a large boating lake and island, walks and gardens, a switchback railway, a cycling and running track, archery, tennis, cricket and football grounds, a circus, concert pavilions with 'high class entertainments and dancing, and an ornamental bandstand 'and a good band'.
The patriarch of the family, George Holden, was born in 1841 or '42 in Bury, Lancashire, and was settled in Douglas by 1888. He had shown talent as a musician at an early age and was awarded a certificate for sight-singing at the age of twelve,* and had been a principal singer at Bury Old Church - probably St. John's Church, Bury, known as the 'old' church – and later in 1861 in Liverpool sang under the baton of Sir Julius Benedict,** and at many of the principal churches.
* Obituary of George Holden, Isle of Man Times, 02.09.1891.
** The composer of the famous Victorian ballad-opera The Lily of Killarney, symphonies, concertos and oratorios. The Liverpool Philharmonic Society's presented concerts at the city's principal churches under the direction of Benedict between 1875-80.
Although the family were active musically on the Island for five years, it is probable that they maintained a property in Liverpool whilst renting a home in Douglas for the summer seasons, or even into the winter close season, during this period.* Perhaps George Holden divided his time between Liverpool and the Isle of Man, in much the same way, but on a more modest scale, that Harry Wood would do between 1917-27 when he was both Musical Director of the Palace & Derby Castle Company and the Winter Gardens, Blackpool.**
* In 1889 the address in Douglas of George Holden, 'formerly of Liverpool, the Musical director of the Injebreck Pleasure Grounds', was given as number 3, Kingswood Grove, Douglas, and at the Dingle Music Academy, number 48, Clevedon Street, Liverpool, an inner-city area bordering the Toxteth and Aigburth districts, and Holden's Music Academies, of Aigburth Rd, Liverpool, and was listed as a subscriber to The Organ, its History and Construction as a 'Professor of Music', a term commonly used to denote a teacher of music at this period. In 1890 the family address was given as 'Dingle House', number 5 (3?) Windsor Road, Douglas. See Isle of Man Times, 11.09.1890. In the Ramsey Courier interview of 21.03.1969 Willie Holden suggested that the family might have stayed at the Injebreck Pleasure Garden's Hotel on occasion.
** See Maurice Powell, Manxland's King of Music, the Life and Times of Harry Wood, Lily Publications, 2018.
The family consisted of the father George, described by Willie as 'a very accomplished musician and accompanist', his wife Elizabeth, and six, possibly seven, other family members, all displaying musical talent and ranging in age from five to twenty years, including a son, also named George, who was a talented multi-instrumentalist, composer and teacher, Willie, aged nine, seven-year-old Charles, a pianist, and James, another violinist. The family 'orchestra' was conducted by George Holden who also wrote some of their music including the Maud Waltz, the Dingle Polka, the Orphan Boys' March, the Lily Schottishce, the Sefton Park Galop, Grand March Imperial Crown and the Tram Car Galop.
'An excellent band has been engaged'
Although the family orchestra performed at Belle Vue on the outskirts of Douglas and the small resort at Port Soderick, they were most associated with the Injebreck Pleasure Gardens,* and details of the afternoon concerts there during August and early September 1888 have survived in a report in the Mona's Herald.* After reporting that 'These gardens are now to be seen at their best', the reviewer went on to praise the daily concerts at the resort: 'The musical performances by the ''Holden Family'', under the direction of Mr George Holden, have given entire satisfaction'.
* See Isle of Man Times 19.05.1888 for a detailed description of the new resort.
** Mona's Herald 01.09.1888
Injebreck Pleasure Grounds, 'a popular resort, thronged with people' and described as 'A Little Paradise', boasted a hotel, 'a handsome dance pavilion', rock garden, a switchback railway, walking trails up into the hills for the more energetic, and pony rides to the top of Garraghan mountain from which 'one of the grandest views in the British dominions' may be enjoyed, together with 'high class entertainment' all under the eye of the excellent manager Robert Mylrea. Visitors from Douglas travelling in up to 20 'traps' each day would hear the sounds of a brass band as they approached the resort, and Willie Holden recalled that he often joined groups of children who accompanied the horse carriages carrying the visitors from Douglas shouting 'Hi! Kelly' as they performed cartwheels for pennies.
A typical Holden Family concert, which took place at 4.00 pm daily, opened with an overture such as Rossini's Tancredi and included orchestral pieces such as the Grand March Imperial Crown by George Holden (dedicated to HRH Princess Louise, Marchioness of Lorne), and arrangements of the choruses from Haydn's The Creation and Handel's Messiah, instrumental solos and duets. 'The violin solos by Master Willie Holden, a boy of nine years of age, have delighted the audiences who have assembled in the Pavilion at the afternoon concerts'. Other performing members of the family mentioned in the report are Miss A. M. and Master Charlie Holden who performed a piano duet; Misses A. M. and M. E. and Mr George Holden, probably the son, who performed a fantasia entitled Jessie's Dream. Masters' James and Willie Holden played a violin duet. Miss Mattie Holden appears among the list of performers at a concert at Belle Vue when she sang The Song That Reached My Heart. She could conceivably be one-and-the-same as Alice Maud, as Mattie is apparently one of the variants of the name Maude or Maudie.
The summer season engagements normally concluded at the end of the first week in September although the following year, 1889, the season was extended to the end of the month. Throughout this period regular advertisements appeared in the local newspapers:
The Holden Family seek engagements: concerts, balls etc evening parties'.
and there are occasional reports of their appearances at local church bazaars and other venues. There was also a projected series of winter concerts:
Holden family concerts (dances) at the Masonic Hall, Loch Parade,
Tues, Thurs and Saturday 7.30pm until 10.00pm. Admission Tues and Sat 6d.
Pupils were also sought for piano, singing and harmonium tuition.
George Holden died on 7th August 1891, aged 49, and was buried at Kirk Braddan.* His brief obituary states that 'Mr Holden leaves a widow and a large family, some members of which have already shown themselves to be musicians of no mean order'.** On August 31st 'a pleasant gathering' of the artistes that contributed to the entertainments during the summer at Belle Vue - which had given pleasure to 'thousands of delighted patrons' - took place at the Grand Pavilion, Bell Vue. Among the guests was Mr George Holden, presumably the son.
* In the 1891 census the Holden family address is given as number 7, West View, Douglas, but George Holden is also listed at number 48, Clevedon Street, Toxteth Park, Liverpool. The 1901 Census names Elizabeth Holden (wife) aged 43; James Fletcher aged 17; Alice Maud aged 16; Mary Ellen aged 14; William Henry Holden aged 12; Charles aged 10; Ralph aged 8; Ada aged 5, residing still at 7, West View, Douglas.
** Isle of Man Times 02.09.1891
The Isle of Man International Exhibition of Science, Industry and Art took place at Belle Vue in July 1892 and the Holden Family Orchestra is listed among the bands and orchestras who provided music in the concert pavilion. Willie left the Island for Garstang that year, and the Orchestra is not mentioned in the Belle Vue programmes for 1893 - 94.
Ramsey, September 2021