RYDINGS, Amy Kathleen (1887-1961)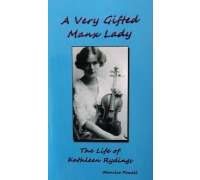 RYDINGS, Amy Kathleen
The gifted and influential Manx-born violinist, teacher and musical director.
Born 7th November 1887, Lhergy Grawe, Laxey
Died 4th February 1961, Nobles Hospital, Douglas
Father Egbert Rydings born 1833 died 1912
Mother Catherine Rydings nee Traylen born 1857 died 1943
Amy Kathleen Rydings, normally known as Kathleen, was the only daughter of Egbert Rydings of Laxey, and his second wife Catherine. Her father, a silk weaver from Lancashire, was a well-respected business man, entrepreneur and founder and manager of the St George's Woollen Mill. He also possessed a fine tenor voice, played the violin, was a highly-regarded choir conductor, the friend and correspondent of the Manx national poet T. E. Brown, and John Ruskin, and the author of 1895 collection of the dialect stories, Manx Tales. Kathleen's mother, twenty-five years younger than her father, was an amateur singer and pianist. Both were frequent participants in local concerts, many of them associated with their local church and the Temperance movement.
Kathleen's first violin lessons were with her father, and her first recorded public appearance as a violinist was at a May Day concert in Laxey in 1894, when she played a duet with him. Around 1895 or 96 she began taking violin lessons from Harry Wood, the musical director of the Palace & Derby Company, who would eventually to be revered as 'Manxland's King of Music'. She made her first important concert debut in February 1897 at Harry Wood's Seventh Annual Students' Concert at the Grand Theatre, Douglas, and thereafter became a frequent and popular soloist, appearing at many local concerts. In April 1900, she appeared in a Grand Concert at the Palace Opera House with Harry Wood's younger brother, the violin virtuoso Haydn Wood, in part of a double violin concerto, a performance which according to the Isle of Man Examiner, ''fairly took the audience by storm''. She was also a regular competitor at the Manx Music Festival, and won the violin prize several years running.
In 1903, at the age of sixteen, and following a brief period of special coaching from Haydn Wood, she won a violin scholarship to the Royal College of Music to study with the eminent Spanish-American virtuoso, composer and teacher, Achille Rivarde. In 1907, her scholarship was extended for a further year to enable her to study at the Brussels Conservatoire with Cesar Thomson. Although she took part in a number of solo recitals and chamber music concerts at the Royal College, she ultimately decided against a career as a concert violinist, and in 1912 formed her own ensemble, the Kathleen Rydings Trio, with 'cellist Beatrice Ethel 'Betty' Newman and pianist Amy Bumstead. The trio was engaged as the resident 'orchestra' at Bobby's department store in Eastbourne, giving 'Palm Court' style light music recitals twice each day in the grand café/restaurant and providing musical accompaniment for the store's fashion shows. Her activities during the war years remain something of a mystery, but between 1915 and 1917 she was a member of Harry Wood's Bijou Orchestra at the Villa Marina. In 1923, Kathleen and her trio returned permanently to the Isle of Man, and were immediately engaged by Dr George Tootell, the director of music at the Picture House and Strand Cinema in Douglas, as the resident Strand Trio to provide music to accompany the 'silent' films and to entertain film-goers during the intervals.
With the advent of the 'talkies' at the end of the 1920s, Kathleen placed advertisements in the local newspapers announcing that the Kathleen Rydings Trio was now available for other engagements. Over the next twenty-five years, the trio, with some changes of personnel, appeared at countless local concerts, charity events, garden fetes, vicarage teas, American Teas, ladies' luncheon clubs, Harvest Homes and many other entertainments and occasions where light, tuneful background music was considered essential. Kathleen was also a frequent violin soloist in concerts and recitals both great and small, and became one of the Island's most recognisable personalities. About this time, she began to advertise herself as a violin teacher, and her pupils gradually started to appear regularly at the Manx Music Festivals. From c. 1932 she also taught at the newly-founded Ramsey School of Music and Dancing along with the popular Manx singer and teacher, Douglas Buxton, and the well-known dance specialist Miss Doris Lowthian.
In 1930 she was appointed musical director of the Manx Amateur Orchestral Society, which was formed partly from members of the recently defunct Douglas Amateur Orchestral Society, which had been founded by her colleague of many years, J. E. Quayle, and had been the Island's first permanent amateur orchestra. Beginning in 1931, the MAOS annual concert became an important feature of the Manx musical calendar, and Kathleen retained her position as musical director for over twenty-five years, a record for the musical director of a Manx amateur orchestra that is unlikely to be challenged in the foreseeable future.
She also founded her own junior orchestra, known as the Avondale Strings, which provided orchestral experience for her most experienced pupils. This ensemble regularly appeared at the Manx Music Festival from 1937 until the late 1950s, and were frequent prize-winners. Some of the young musicians who played in the Avondales, as they were affectionately known, became accomplished adult violinists; some, including Colin Callow, enjoyed professional careers in England; others, such as Alan Pickard became highly-respected conductors and musical educators on the Island, whilst talented and experienced amateur players such as Mollie Radcliffe and Emily Magee, who led the MAOS and its successors the Swarthmore Players and the Manx Sinfonia for many years.
Owing to a brief period of illness, her violin pupils and her familiar Avondale Strings were absent from the Manx Music Festival in 1952; nor was there a MAOS Annual Concert that year. The last documented Annual Concert with her orchestra took place in April 1956 and included a selection from Offenbach's Tales of Hoffmann and Eric Coates' exciting new march, The Dambusters, two works that, coincidently, virtually frame the span of her life. Kathleen continued to appear occasionally with her trio and as a soloist during the late fifties; her last known public appearance was at a concert at the Buchan School in July 1960. Kathleen's health began to fail again in November 1960, and in late January 1961 she was admitted to Noble's Hospital. She died there on Saturday February 4th and was buried in Lonan Church yard a few weeks later.
Although by no means a world class violin virtuoso, her stylish playing of her favourite violin 'lollipops' and showpieces in hundreds of concerts and recitals throughout the Island gave pleasure to all those who had the privilege of hearing her. As a violin teacher, she taught hundreds of young players whose presence invigorated the Manx Music Festival for more than twenty-five years at a period when the Festival would otherwise have been dominated by classes for solo singers, choirs, brass bands and Gaelic speakers. Kathleen's importance as the musical director of the Manx Amateur Orchestral Society, is that she single-handedly preserved the thread of amateur orchestral playing on the Island, from the demise of the Douglas Amateur Orchestral Society in 1930, through the musically lean years during World War Two until just a few years before her death. Her friend and colleague Dr George Tootell paid her the following tribute in his appreciation of her life and work published in the Isle of Man Times a few days after her death:
Her death has left a great gap in instrumental music here, and it is difficult to imagine who will carry on the work she did so well.
She was a very gifted lady, self-effacing, modest and shy, and will be remembered as a much-loved and admired true Musician of Man.
Maurice Powell, Andreas, October, 2013.
SOURCES:
Maurice Powell, ENCORE! The Story of the Isle of Man Symphony Orchestra, 2013.
Maurice Powell, A Very Gifted Lady. The life of Kathleen Rydings. Wibble Publishing, 2014.
by Maurice Powell 2016
Suggested Reading
Maurice Powell, ENCORE! The Story of the Isle of Man Symphony Orchestra, 2013.
Maurice Powell, A Very Gifted Lady. The life of Kathleen Rydings. Wibble Publishing, 2014.