FORDE, Florrie (1875-1940)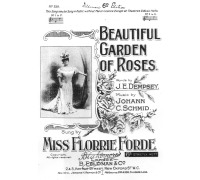 Forde, Florrie
The variety artiste the Manx truly took to their hearts.
Born Flanagan, Florence (Flora) May Augusta, 16th August, 1875, Fitzroy nr. Melbourne, Australia, the sixth of eight children.
Died 18th April, 1940, Aberdeen.
Father: Lott Flanagan, an Irish-born mason.
Mother: Phoebe Simmons.
Married: Walter Emmanuel Brew, a water policeman, in 1893; Laurence Bennett, an art dealer, in 1905.
Florrie Forde's entry in New Manx Worthies is more than justified. Notwithstanding the fact that she was not Manx-born, nor a resident except during many summer holiday seasons between 1900 until 1939, the Island occupied a very special place in her affections, and she was perhaps the only variety artiste that the Manx truly took to their hearts. She was a great ambassador for the Island and never lost an opportunity to extol its virtues or defend its reputation from the variety stage, over the wireless or in the press. Furthermore, the extent of her tireless work for Manx charities has only recently been investigated and fully appreciated.1
The 'Australian Marie Lloyd' was discovered working the halls in Sydney by the comic singer-turned-entrepreneur Harry Rickards, and brought to England to make her British debut as an unknown at the London Pavilion on August Bank Holiday, 1897. Described as 'a fine buxom woman' she was soon appearing at the Canterbury, Paragon and Tivoli theatres; from that time onwards she was scarcely ever out of the limelight.
*****
Florrie Forde first appeared in Douglas in September 1900 for a two week engagement at the Derby Castle, the entertainment venue that would become her Douglas home. The following year she appeared at both the Palace and the Derby Castle, but does not seem to have been engaged in 1902, thus dispelling the myth that – apart from the years 1915-18 – she appeared every year in Douglas up to and including 1939. In 1903 and 1904 she sang what may be her first Manx-inspired song: All Aboard for Douglas and her new sensation Down at the Old Bull and Bush, and the reviews spoke of her powerful stage presence, 'fine physique, abounding vivacity and an abundant voice' that could be heard even in the furthest corners of the crowded theatre: 'What Florrie Forde sings tonight will be hummed and whistled in the street tomorrow'. It was in Isle of Man, therefore, that the foundation of her reputation as 'The Queen of the chorus singers' was laid.
Every season she introduced new songs to Douglas: Has Anybody Seen a German Band in 1906; She's a Lassie from Lancashire in 1907; Oh Oh Antonio in 1908 and in 1909, the first of her famous 'Kelly' songs, Has Anybody Here Seen Kelly? 2 one of her most enduring songs, and one that initiated a number of sequels including I've Found Kelly, Meet Me in Kellyland, I'm Off to Kelly's Isle and Kelly's Come Back to the Isle of Man. In 1910 she introduced another Isle of Man song, Flanagan, which contained a reference to 'Kelly' in the chorus:
Take me where the folks all cry, K-E-double–L-Y.
This famous song, too, generated its own sequel in 1919: Hello! There! Flanagan. In 1911 she sang the knowing They're all single by the seaside, and in 1912, another song for Douglas, We Must Have a Song About the Isle of Man. Her performances were 'a triumph of personality . . . and she could make a crowd sing as nobody else could'.
On 21st July, 1913, Florrie Forde 'floated' onto the stage of the Derby Castle and into history when she sang It's a Long Way to Tipperary for the first time before an audience of 4,000 holiday-makers boosted by soldiers from the training camps at Milntown near Ramsey:3
. . . how they sang the choruses . . . never has Florrie Forde received such a reception . . . it is doubtless that any other artiste could please a crowd like Miss Forde.
The following fateful year she was appearing at the Derby Castle during the last two weeks of July and the first week of August before bumper houses. She sang Mr Kelly's Isle, We all come fra' Lancashire, In the Sunny Summer Time and of course Tipperary. Her quick changes of the extravagant costumes that were a special feature of her act were much-commented on in the local newspapers. That year she mingled with the crowds before and after her appearances with her collection box and autographed postcards which she sold to her admirers; the money raised – some £20 – she donated to Noble's Hospital.
'Time cannot stale nor custom wither her infinite variety . . .'
Florrie Forde was one of the first big stars to return to the Derby Castle Ballroom4 when it re-opened after the war on Monday 14th July, 1919. Her return to 'Manxland' was heartily welcomed and the Isle of Man Times hailed her as 'The Greatest Chorus Singer' in the world. She would appear in Douglas ever summer season for the next twenty years with war-time favourites such as Pack up your troubles and Mademoiselle from Armentiers, new songs with contemporary themes, her 'Kelly' songs and other pre-war hits, as her popularity grew and grew:
She has a place in everybody's heart . . . she gets everyone to forget themselves . . . and join in the chorus and enjoy it.
To which she responded:
I am never have happier times anywhere than on the dear little Isle of Man
In 1924 she wrote a series of articles about her life for the Manchester Empire News in which she admitted to being forty-eight years old and having been on the stage for thirty-three years. She also revealed that the music publishers Bert Feldman and Lawrence Wright often mingled incognito with the holiday crowds in order to identify which new songs the visitors had taken to, for these were the songs that would appear in the pantomimes during the coming winter, and they looked to Florrie Forde to 'make them go' as only she could.
Florrie Forde possessed a powerful voice with just enough edge to enable it to soar effortlessly over the largest audiences, and she looked after her voice so that it lasted as long as her long career. In addition to performing her best-loved songs hundreds if not thousands of times, she was a prolific recording artiste, making some 700 recordings between 1903 and 1936. During the 1930s she also found time to take small roles in several films and still occasionally appeared in pantomime, despite the fact that at sixteen stones by the mid-1920s, she was an improbable principal boy. She was also generous in her promotion of other up-and-coming variety acts, and among others, created the duo Flanagan and Allen.5
In 1934 the Derby Castle Ballroom was packed to the ceiling as 7,000 joined in the choruses with such gusto that even Florrie herself seemed overwhelmed, and one season the police asked her to prevail upon her audiences to refrain from singing her songs on the promenades as there was a risk of disturbance to the peace of the town. She graciously acquiesced but commented that: 'It struck me as being the way of making them do it more than ever!'
*****
The local newspapers not only continued to be fascinated by her sumptuous frocks and feathered hats, but rightly paid tribute to her endeavours on behalf of her favourite Manx charities. In 1924 she began to organise her series of annual charity garden fêtes at her own expense, and raised considerable sums of money over the years for the Lifeboat Institution, Noble's Hospital and the Isle of Man Children's Home. By 1926 her original charity event had become a far larger affair and transferred to the Palace grounds, extending into the evening to include a dance and cabaret with five 'syncopated' bands, Harry Wood's orchestra, comedians, singers and dancing girls. It had become established as a permanent fixture in the Douglas entertainment calendar. As time went on new charities were included: the Jane Crookhall Maternity Home and the Work for the Workless Fund; in 1930 her charity event was attended by 3,000 holiday-makers and £300 was raised, rising to the record sum of £344 in 1937.
An act of grace, and a missed opportunity.
The act of charity for which Florrie Forde is best-remembered occurred in 1927, when she erected a tombstone – a white memorial tablet – in Kirk Patrick Churchyard over the grave of an 'Unknown British Sailor' washed ashore near Peel in 1918. The inscription read:
'Some Mother's Son'. Erected by Florrie Forde. 1927.
She visited the grave every year leaving behind a bouquet of red and white roses, and left money for the maintainance of the site.
Rumours of her impending retirement from the stage began to circulate as early as 1931,6 reappeared from time-to-time and were always firmly denied. In 1938 a campaign initiated by letters to the Isle of Man Examiner7 to have the Freedom of the Borough of Douglas conferred on her began to take wing:
We Manx people owe it, and far more, to her. What about the publicity she gives us, especially on the wireless. She belongs to us and is nearly Manx.
That year nearly 5,000 people attended her charity fête which once again raised a considerable amount of money. 'The name Florrie Forde stands for humanity', said the Mayor of Douglas in his address, but inexplicably the Town Council, meeting behind closed doors, disagreed. The matter was raised again the following year to no avail; the Island had lost an opportunity to both give and receive honour.
She appeared for the last time in Douglas during July and August, 1939. She revived many old favourites including Goodbye-ee and Tipperary together with Count Your Blessings, Cheerie-O and her newest song Boomps-a-daisie. Thus it was that, for the second time during the half-century, Florrie Forde was appearing at the Derby Castle on the eve of war. In April, 1940, she suffered a cerebral haemorraghe in her car on her way to the Tivoli Theatre, Aberdeen, after entertaining the patients in a naval hospital, and died shortly afterwards at the comparatively young age of sixty-four. The last song she sang was the World War I favourite Goodbye-ee.8
Maurice Powell, December, 2016.
Notes
1. See Maurice Powell, Manxland's King of Music, the Life and Times of Harry Wood, forthcoming in 2017.
2. Written and composed by C. W. Murphey and Will Letters, 1909. Leaving aside Oliver Gaggs' Hi! Kelly! Vocal Polka of 1887, the first true 'Kelly' song was C. W. Murpheys' Kelly the Carmen of 1898, popularised on the Island by Lester Barrett.
3. See Maurice Powell, Tipperary and the Isle of Man, new evidence, Culture Vannin, KMJ, manxmusic.com, 2014.
4. Florrie Forde insisted that she performed in the large Derby Castle Ballroom; other variety stars appeared in the smaller variety theatre.
5. Chesney Allen and Bud Winthrop were part of her concert party Flo & Co; Winthrop subsequently borrowed Florrie's maiden name and thus Flanagan and Allen were born.
6. Ramsey Chronicle, 24th July, 1931.
7. IoME, 25th March, 1938.
8. Cited in Richard Anthony Baker, British Music Hall, and illustrated history, Pen & Sword History, 2014.
FORDE Florrie
THE WORLD'S GREATEST CHORUS SINGER
Born: 16th August 1875, Melbourne, Australia
Died: 18th April 1940, Aberdeen, Scotland
Father: Lott Flannagan
Mother: Phoebe Flannagan (née Simmons)
Married: (i) Walter Emanuel Bew (ii) Laurence Barnett
From her first appearance at the Derby Castle in 1900, Florrie Forde missed only five summer seasons ̶̶ 1902 and the war years 1915-18 ̶̶ in the Island until her final appearance in 1939. In 1908 'Has Anybody Here Seen Kelly' ('Kelly from the Isle of Man') became one of her most popular numbers, one of several written by C.W. Murphy with a variety of lyricists, using a Manx background, catering for the mass tourist audience. Another of these was 'Flanagan' ('Take me to the Isle of Man again'), with a version of Florrie Forde's maiden name for its title. She was also instrumental in the 1920s in pairing Robert 'Bud' Winthrop, a young comedian in her company, with her one-time manager, Chesney Allen - her protégé adopted Flanagan as his stage name.
Florrie Forde was frequently described as a buxom woman, and her striking physique was set off by expensive Parisian gowns and large, flamboyant hats - a change of costume for each song. She had a commanding stage presence, and specialized in songs with strong and memorable choruses for the audience to join in with. She led the nightly summer season audience at the Derby Castle with a chorus stick in hand, singing popular chorus songs such as 'Hold Your Hand Out, Naughty Boy', 'Oh, Oh, Antonio', 'Nellie Dean', and the song most associated with her, 'Down At The Old Bull And Bush', as well as the songs with Manx connotations.
Florrie Forde stayed during her summer seasons at a cottage at Niarbyl, with which she became synonymous. She was well-known in the Island for her charitable work, making many appearances at garden parties. When the unidentified body of a British sailor was washed up on the beach after his ship had been sunk by a German submarine in World War I, Florrie Forde commissioned a gravestone in Patrick Churchyard with an epitaph reading 'Some Mother's Son' and made a point of visiting it during each visit. A collection box was installed so that donations could be used for charitable purposes.
In 1912 Florrie Forde launched Jack Judge's song 'Tipperary' at the Derby Castle, which went on to become a firm favourite during the First World War. She also sang and recorded 'Pack Up Your Troubles in your Old Kit Bag' and other wartime favourites, and was described by one commentator as 'The Woman who won the War'.
She was born in Melbourne as Flora (or Florence) May Augusta Flannagan, the sixth of eight children. Her mother already had two children from an earlier marriage. After the death of Lott Flannagan, Phoebe married a theatrical costumier called Thomas Ford, with whom she had a further six children, but she died in 1892. On the death of her mother, Florrie ran away to Sydney to try for the stage, adapting her step-father's surname as her stage name. She became an immediate success with her comic and sometimes risqué songs. In 1896 was spotted by an English comedian who offered her £25 per week for three years to tour England - a large sum of money at that time. She decided not to take up his offer, but to make her own way and discover the opportunities for herself.
She arrived in England in 1897 and quickly repeated her Australian success. In 1912 she appeared in the first ever Royal Command Variety Performance. She also appeared in 1935 and 1938. Between 1903 and 1936, she made 700 recordings, and also appeared in three films (made 1934 and 1935). Apart from her summer seasons in the Isle of Man, she regularly appeared in pantomime up to 1935, as well as touring British theatres - she never returned to Australia, though her recordings show that she retained an Australian accent. She evidently had considerable business acumen, commanding large fees and subsequently touring with her own company, 'Flo and Co'.
Her last singing engagement was at a naval hospital in Aberdeen, Scotland on 18th April 1940. As she was traveling by car to perform at the Tivoli Theatre, she suffered a cerebral haemorrhage and died.
SOURCES:
Brownrigg, Jeff, 'Forde, Florrie (1875–1940)', Australian Dictionary of Biography, National Centre of Biography, Australian National University, published in hardcopy 2005, online http://adb.anu.edu.au/biography/forde-florrie-12920/text23343
MNHL Newspaper archive
Van Straten, Frank, 'Fabulous Florrie Forde', Stage Whispers, http://www.stagewhispers.com.au/history/fabulous-florrie-forde
By RC Carswell
Suggested Reading