MORRISON, Sophia (1859-1917)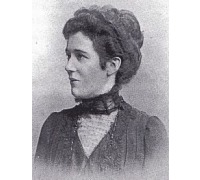 Sophia Morrison (24 May 1859 – 14 January 1917) was a Manx cultural activist, folklore collector and author. Through her own work and role in encouraging and enthusing others, she is considered to be one of the key figures of the Manx cultural revival. She is best remembered today for writing Manx Fairy Tales, published in 1911, although her greatest influence was as an activist for the revitalisation of Manx culture, particularly through her work with the Manx Language Society and its journal, Mannin, which she edited from 1913 until her death.
Read the rest of this Wikipedia entry on Sophia Morrison
Sophia Morrison also collected melodies, the most famous example being "Arrane Ghelby" (Song of Dalby, sometimes known as Song of the Water Kelpie).
Stephen Miller has conducted research into the songs collected by Morrison and 'Cushag' (Josephine Kermode)