JERRY, Colin (1936-2008)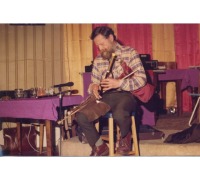 Colin Jerry was a primary schoolteacher, musician and Manx speaker whose contribution to Manx culture was extensive and staggering.
Colin was born in Sussex and first visited the Isle of Man in the 1940s when his father was stationed at RAF Jurby. His long-held ambition to move here permanently was fulfilled in the late 1960s when he was offered a teaching post on the island. He quickly immersed himself in Island life and made an enormous contribution to Manx music during the forty lives that he lived here. Though his first love was New Orleans Jazz (he played trumpet for some years with the Island's Garff City Stompers), he had wide musical interests and he and his wife Cristl soon immersed themselves in traditional music. Colin was a founder member of Bwoie Doal ('Blind Boy' - a tribute to blind musician and singer Tom Kermode of Bradda), who were one of the most influential groups in the early days of the revival in the 1970s.
An uillean piper and whistle player, he led sessions at the White House in Peel, and organised visits by Manx musicians to Celtic festivals such as Lowender Peran in Cornwall and Lorient in Brittany.
He was responsible for creating Kiaull yn theay 1 and 2 ('Music of the folk'), highly accessible resources which hold transcriptions of songs and tunes from the Clague-Gill manuscripts, Mona Douglas and other sources. These attractive and inexpensive editions are often referred to as 'the yellow book' and 'the red book' are widely used in all of the Island's schools, as well as by musicians in many countries. Colin later produced 'Kiaull Vannin', another excellent source for Manx musicians.
He was a gifted Manx speaker who wrote his own songs and translated many others from English. Together with John Kaneen he produced 'A Garland for John Clague: A New Book of Old Songs'. His own collection of songs (both original and translations) 'Angels, Soldiers, Lovers and Other Folks' appeared in 1993. His stories and writings in Manx appear in publications such as Skeealaght.
After a discussion with Mona Douglas in 1975, Colin founded the group 'Bock Yuan Fannee' to revive the Mylecharaine's March dance. The name stuck, and the dance group, now mixed, is still going strong.
Colin's determined stance, as well as his sheer hard work, did much for the flowering and development of traditional music in the Isle of Man. Colin was awarded Culture Vannin's Reih Bleeaney Vanannan in 1991. He sadly passed away in December 2008, but his legacy certainly lives on.
JERRY Colin William Patrick
THE CORNERSTONE OF THE MANX MUSIC REVIVAL
Born: 15th June 1936, Petworth, Sussex, England
Died: 19th December 2008, Noble's Hospital, Braddan
Father: William Edward Jerry
Mother: Phyllis Sara (née Sharp)
Married: Cristl [Cristina] Josephine Kleiser
Issue: Bridget, Patrick and Kathleen (Kate)
Education: Sir Anthony Brown School, Brentwood, Essex
Brentwood Teacher Training College
For anyone looking for a piece of Manx traditional music, the usual question is whether the tune is in 'the yellow book' or 'the red book'. With 'the yellow book' – Kiaull yn Theay (literally, 'Music of the Folk/People '), published by Yn Çheshaght Ghailckagh in 1978 – Colin Jerry established a solid foundation for the revival of Manx traditional music.
Since 1896, the general impression of Manx music had narrowed to the Victorian balladry with piano accompaniment of Manx National Songs (John Frederick Gill, Dr JOHN CLAGUE and WILLIAM HENRY GILL). By the 1970s, this was widely held to be Manx music and the style in which it should be performed, despite Clague and the Gills' observation in their Preface that 'the songs in this Volume are given as showing one form into which the originals may be developed'. In Kiaull yn Theay, Colin returned to the bare bones of the tunes as collected, referring to them by their titles in Manx, and pairing original Manx lyrics with their tunes. Other than suggesting guitar chords, he left it to those using the book to develop the tunes as they wished. The result was a rapid revolution. Within one or two years, reference to the music was not through the English titles of Manx National Songs, but through the Manx names of Kiaull yn Theay. Where lyrics were sung, the original Manx was more frequently heard than the English adaptations. Kiaull yn Theay ('the yellow book') was followed by 'the red book', Kiaull yn Theay 2 (1979).
Colin's first musical interest, though, was jazz, by which he meant strictly New Orleans style, and he played trumpet for some years with the Island's Garff City Stompers. However, his musical interests were wide, and Colin, with his wife Cristl, became an enthusiastic participant in traditional music sessions in Peel, playing guitar. That session developed into the musical group, Celtic Tradition. Their repertoire was general folk material, with songs in English, but Colin began to look into the Island's own traditional music. Whilst a few dance tunes were well-known, it was with difficulty that he discovered a much lesser-known body of music, including songs in the Manx language. In order to sing the songs with proper pronunciation and understanding, Colin and Cristl both became fluent in the Manx language.
The major obstacle was that sources of music other than Manx National Songs were out of print and difficult to find. There had been the 20th century collections of CONSTANCE MONA DOUGLAS, Twelve Manx Folk Songs, Sets 1, 2 and 3 (1928, 1929 and 1957) and her collections of folk dances; the 1896 Manx Ballads and Music of ARTHUR WILLIAM MOORE; and the 1898 collection by WILLIAM HENRY GILL, Manx National Music, based on the manuscript collection of Dr JOHN CLAGUE and the Gill brothers, held in the Manx Museum. With the arrival of general photocopying services at the Manx Museum in the mid-1970s, Colin was amongst the first to obtain a copy of the manuscript. Colin also was able to refer to The Journal of the Folk-Song Society, Nos. 28, 29 and 30 of 1924, 1925 and 1926, edited by Annie Gilchrist, based on the Clague/Gill manuscript collection.
In view of the difficulty that Colin had in finding out about, and obtaining copies of, this music, he wanted to make it easily accessible to others. This he did by hand – drawing staves, writing out lyrics et al. The first outcome was a booklet entitled Kiaull ny Manninee, produced for the Manx Language and Folklore Group of the Isle of Man Board of Education Local Studies Project in 1976. This formed the basis of Kiaull yn Theay. His autograph work was lithographed by the printer and issued in an attractive and inexpensive edition which soon sold out and was immediately reprinted, and has never been out of print since. Kiaull yn Theay (1 and 2) quickly became widely used, particularly in the Island's schools, as well as by musicians in sessions in the Island and elsewhere. In tribute to Colin, the series has since been extended with the publication of Kiaull yn Theay 3 and 4, containing new tunes and songs, some extended versions of traditional tunes and some previously unpublished traditional pieces.
In addition to Kiaull yn Theay, published by Yn Çheshaght Ghailckagh, Colin also published instructional and resource material, translations into Manx of folk songs and hymns as well as original Manx song lyrics. One of Colin's original songs, Ny Laghyn Foddey Shen, was performed in the Celtic Song Competition by Gregory Joughin at the Pan-Celtic Festival in Ireland in which, on another occasion, Colin himself performed his original lyrics, Keayrt Hug Mee Graih, to a tune by Dave Speers. Colin's music publications were:
Cur Çheb: A Beginners Book of Manx Tunes for Whistle or Recorder (self-published, 1982);
Kiaull Vannin: A Source Book for Manx Tunes, transcribed from the collections of Dr. J. Clague and others (self-published, 1987);
Slongan son Juan y Clague / A Garland for John Clague: A New Book of Old Songs (with John Kaneen, self-published 1988), containing the lyrics of songs in English identified in the Clague/Gill manuscript, with translations by Colin into Manx;
Ainleyn, Sidooryn, Graideryn as Follee Elley: Angels, Soldiers, Lovers and Other Folks: Songs in Manx Gaelic compiled by Colin Jerry (self-published, 1993), a collection of translations into Manx and original compositions in Manx by Colin, with some traditional songs and one dance.
Colin Jerry was born in Petworth, Sussex on the 15th June, 1936 and retained a countryman's love and depth of knowledge of the natural world. His first experience of the Isle of Man was as a young child in Ramsey in the 1940s, when his family spent their summer holidays with his father who was stationed at RAF Jurby. The family, and Colin particularly, enjoyed the experience so much that it became a favourite holiday destination and Colin set his heart on living here. When he married Cristl on 31st August 1963, their honeymoon was spent in the Island.
A qualified primary teacher, Colin applied for a teaching position in the Island in 1968. When he was interviewed for the post he stated that he was prepared to learn the Manx language. The Board of Education assured him that would not be necessary. On his appointment, he taught for a year at Demesne Road (now Ballacloan) before moving to Peel Clothworkers' School where he spent the rest of his career. Despite the Board of Education's assurance, Colin went on to introduce the Manx language into the classroom through his artistic skills and humour, producing large-scale cartoons with captions in Manx. Colin also made lots of instruments for use in school. These were mainly plucked psaltery-type instruments, a number of which were pentatonic, which made them eminently suitable for a number of Manx and other Celtic tunes, and drums which were made from catering- size cooking oil drums and lorry tyre inner tubes. The children could use these instruments freely and enjoy them. His classes always gave enthusiastic performances at school concerts, and Colin's musical input was much appreciated by children and parents alike. After retiring from teaching, Colin began making musical instruments professionally in his basement workshop at the family home which was also in Peel.
As Colin was closely involved in the Manx language and music, in 1975 Mona Douglas consulted him about the possibility of reviving the dance Mylecharaine's March for six men with two sticks apiece. Colin recruited a team for which he suggested the name, Bock Yuan Fannee – literally 'the buck of John the Flayer', an expression referring to walking (Shanks's Pony) or a walking stick. The name stuck, and the dance group, now mixed, is still in existence. The original men's team also performed The White Boys play at Christmas, including a six hand longsword dance. Practices were held in the kipper yards in Peel. In 1977 the mixed team made its first visit to the Festival des Cornemuses in Lorient, Btittany (now the Festival Interceltique de Lorient) for which Colin acted as respondent in the Island for a number of years.
Colin's chief mentor in the Manx language was Lewis Crellin (1901-1990). Colin attained a fluent command of idiomatic Manx, delivered in the accent from his schooldays that he never lost. Colin was one of four contributors to Skeealaght (1976), a collection of stories and articles solely in Manx. Colin was also a frequent contributor to the Noon as Noal column in the Manx Star newspaper at a time when the Manx column sometimes ran to half a broadsheet page. He combined his love of Manx with a keen sense of humour, and produced some superb illustrations purporting to be newly-discovered incised crosses or maps and plans, accompanying a text describing in faux-serious language the supposed academic comment on the material. Some of his stories were reworkings of folk tales, particularly about Ny Three Muckyn Beggey ('The Three Little Pigs') which were incisive satires on contemporary Manx life in the 1970s (later self-published in book form, 1989). In 1994 he self-published Shey Skeealyn Jeig : An Intermediate Reader : Folk Tales from Several Nations Translated into Manx Gaelic by Colin Jerry. Colin's artistic penmanship was also put to the service of Yn Çheshaght Ghailckagh, of which Colin served as a committee member, and Mec Vannin, though Colin himself ceased to be a member over an issue which first arose in 1973.
From its origins in The Creek Inn in Peel and regular sessions in the Glen Helen Hotel, the group Celtic Tradition had been playing a largely Irish/Scottish/English repertoire. Having discovered that there was a significant body of Manx traditional music, Colin was single-minded, not to say bloody-minded, about insisting on a Manx repertoire at the regular Saturday music sessions, first at the Thie Bouyr ('The Deaf House' – Central Hotel, Peel) and later in the Whitehouse in Peel. Having provided a guitar accompaniment to the music for many years, Colin introduced to the Manx music sessions a set of uillean pipes which he had made for himself. A loosely-knit body of musicians, with Colin and Cristl (playing a harp made for her by Colin) at its centre, became known as Bwoaie Doal ('Blind Boy' – the nickname of Tom Kermode of Bradda, a source of some 50 items collected by Dr JOHN CLAGUE), performing only music with a Manx provenance. Colin had been enjoying a music session, playing his uillean pipes and sharing tunes with friends in St John's, when he collapsed and subsequently died in Noble's Hospital on 19th December 2008.
Acknowledgement of Colin's work in respect of his many cultural activities, and in particular as the cornerstone of the Manx music revival, came in 1991 with his recognition as Reih Bleeaney Vanannan. Without Colin's determined stance in establishing and maintaining a Manx repertoire, as well as his sheer hard work, traditional music would not have flowered as it has in the Isle of Man in recent years.
SOURCES:
Jerry, Colin (1983), 'Fifteen Years in Manks Music' in Cathal Ó Luain (ed.), For a Celtic Future, The Celtic League, Dublin, pp.289-295
Jerry, Kathleen (2009), 'Colin Jerry : An Appreciation by his daughter Kathleen' in Carn No. 143, Summer 2009, The Celtic League, Dublin, p.21
Joughin, Gregory (2009), 'Colin Jerry 15-06-36 to 19-12-2008', in Yn Pabyr Seyr No. 42, January 2009, Mec Vannin, Peel, pp.1-2
MNHL Newspaper archive
Personal communication with Cristl Jerry.
Personal reminiscence.
By RC Carswell 2014
Suggested Reading