LEIGHTON STOWELL, Philip (1897-1978)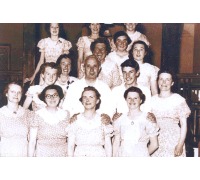 Philip Leighton Stowell played an important part in the development of Manx dancing, teaching children and composing new dances.
What did he do?
Having trained as a teacher, Stowell started work at Albert Road School in Ramsey around 1918. He led a small choir as well as a dance team performing English country dancing and Morris dancing. In 1928, Mona Douglas asked him to help work on the descriptions of Manx dances she had collected so that they could be performed again.
After his introduction to Manx dances by Douglas, Stowell continued to teach English and Manx dances to his pupils at Ramsey until he moved in 1937 to Victoria Road School in Castletown, where he introduced children and teachers in his home town to folk dancing as well.
Stowell was a founding member of the Manx Folk Dance Society (1951).
Why was he interested in Manx culture?
Stowell's parents were interested in Manx culture, his father having published a book called Castletown a Hundred Years Ago (1902). His father was also a talented artist who liked painting landscape scenes of the South of the Island. According to Stowell's daughter, he decided that it was important to support Manx culture when he saw how other countries preserved and enjoyed their own traditions.
How did he go about it?
Stowell taught Manx dancing to lots of children. He also composed new dances based on well-known traditions such as the use of the Billey Keirn or Mountain Ash to ward off evil, or the customs surrounding turf cutting.
Other dances were composed to suit the dancers in his group. He liked the tradition of 'mouth music' – using singers to accompany dancing – so much that many of his new dances started as a poem followed by a tune and eventually a dance would emerge.
Stowell asked Mona Douglas to provide him with Manx words to fit with tunes for existing dances such as Eunyssagh Vona, and his daughter Aileen was usually called upon to perform them.
Why is he famous?
Stowell was awarded the Mananan Trophy in 1966 and received the freedom of Castletown in 1972 in recognition of his services as a folk dancer, lecturer, teacher and more.
In 1981, a few years after his death, the Manx Folk Dance Society published a collection of Stowell's new dances and dance tunes called The Leighton Stowell Book of Manx Dances.
Breesha Maddrell
based on the research of Cinzia Yates and Aileen Stowell Hall