Hartes Ease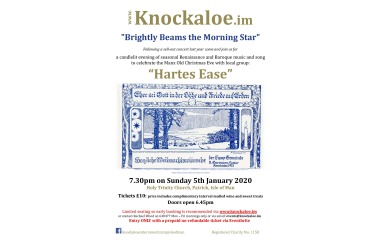 When: Sun, 05 Jan 2020
Time: 7.30pm
Hartes Ease and friends wish to invite you to join us for our Manx Old Christmas concert, " Brightly Beams the Morning Star ". This will be our fourth Christmas concert by candlelight in the lovely Holy Trinity Church, Patrick for the Knockaloe Charity.
We are grateful for the warm welcome we are given by the Church and Knockaloe Charity.
This year we are delighted that Ruth Keggin has agreed to take part in this year's Old Christmas Eve event. Information on our flyer advises early booking. Seating is limited and the previous three at Patrick have been sell-outs, so book early to avoid disappointment.