HUNT THE WREN - Where Oh Where?!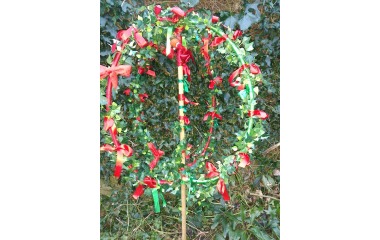 When: Wed, 26 Dec 2018
Time: morning!
Dancing on the streets around a "the king of all birds" who is paraded around on a pole... Hunt the Wren is one of the most popular and yet more unusual Manx traditions in practice today.
On St. Stephen's Day (26th December) communities come together across the Isle of Man to dance and sing around the streets. The practice, dating back to Pagan times, is centred on a wren, "the king of all birds," which is hunted and then danced through the streets on a special pole (the bird in the wren pole today is a replica!)
Join revellers around the Isle of Man to celebrate the old tradition of Hunt the Wren through song and dance. Musicians, singers and dancers of all ages and abilities welcome!
RAMSEY - meet outside St Paul's Church at 10.30am. Finish the morning at the Mitre Hotel.
ST JOHNS - meet at 10.30am in the Arboretum car park.
PORT ST MARY - meet at 10am in the Scoill Purt-le-Moirrey car park.
KIRK MICHAEL - meet at 11am outside the Mitre pub, then onto The Raven Pub in BALLAUGH 11.20am and SULBY Glen Pub at 11.40am.
DOUGLAS - meet outside the Woodbourne Pub, Alexander Drive. Meet 10.15 for 10.30am 'Round the Houses'. All welcome, no prior knowledge needed (unless you're playing an instrument)! Thanks to Fiona McArdle for the wren pole photo.
Singing and dancing and hunting the wren must be over by 12 noon to avoid bad luck!
Following that, visit ST JOHNS to take part or spectate the annual Cammag match!
Cammag is a team sport originating on the Island, closely related to the Scottish game of shinty and is similar to the Irish game of hurling. Once the most widespread sport on Man, it ceased to be played around 1900 after the introduction of association football, though it has experienced a revival in the 21st century.
Historically Cammag season started on Hunt the Wren Day and was played by men (of all ages) during the winter.
* Trad music session afterwards in the Tynwald Inn*
Mollag Band sing Hunt the Wren:
Fiona McArdle & David Fisher explain in Manx Gaelic about the ancient tradition:
More info on Hunt the Wren and download music, lyrics, etc.: https://www.culturevannin.im/manx_year.html