Mollag Ghennal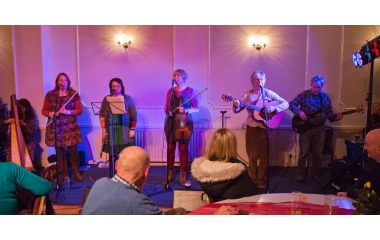 When: Fri, 28 Dec 2018
Time: 7.30pm
25th Anniversary Mollag Ghennal
The Manx Legion Club, Douglas, 7.30pm
The history of the annual Manx Christmas knees up began in The Garden Room of the old Villa Marina. The Mollag Band took over the spot from the Calor Gas Band Xmas ceili in 1993. The event was continued for a couple of years by Yn Chruinnaght, but it was returned to the able hands of the mighty Mollags and remains a popular date in the cultural calendar.
……………………………………………………………………………………………….
LINE UP:
Sel Edwards - Welsh fiddle player with a family association with Mann.
Matt Kelly - Local singer-song writer
Imbolc - Celtic band fresh from their performances in Belgium
Scran - Talented young trad band with their brand new album "Nane"
Skeddan Jiarg - a small dance group of small people!
Frank and Jamie Joughin - Father and son duet
And of course, The Mollags who have been experimenting with the musical equivalent of modern art. Where groups of lyrics are connected only by vague association. Creating an abstract image formed through the ears of the listener. Like a sort of melodic Matisse...
We will also try some community singing with a mix of Victorian music hall and 70's Manx folk classics!
Supper from the Mollag kitchens
Tickets: £15.00 from Thomson Travel, Celtic Gold, Shaktiman, Peter Norris.