Mollag Band (The)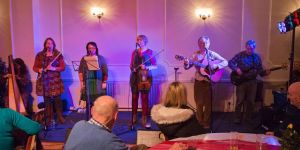 Contemporary Manx band singing in both Manx and English, The Mollag Band has released a number of recordings on cassette over the years, with CDs Into the Tide in 1997 and most recently Afloat in 2014. The Mollags have given performances throughout the Celtic world – Lorient, Brittany and Cwlwm Celtaidd, Wales to name but two.
Line-up:
Greg Joughin - lead vocals, guitar
Hillary Gale - viola, vocals
Julie Matthews - flute/whistle, vocals
Sarah Hewson - flute/whistle, vocals
Dave McLean - bass
Russell Cown - percussion
Representation at festivals
2010 Festival Interceltique de Lorient, France
2009 Cwlwm Celtaidd, Wales
2015 Festival Interceltique de Lorient [Pavilion]
Watch the Mollag Band sing Hunt the Wren
Recordings:
2014 Afloat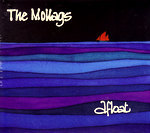 1997 Into the Tide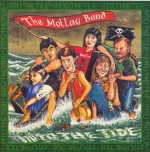 and many more cassettes!...
More Manx Bands - Possanyn