Tribute to Dr Brian Stowell RBV TH 1936 - 2019
Tue, 05 Feb 2019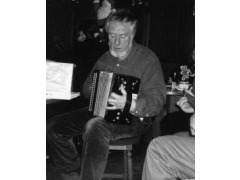 Tribute to Dr Brian Stowell RBV TH - Cooinaghtyn er Brian Stowell September 6, 1936 - January 18, 2019
We at Culture Vannin were privileged to have Brian as a Member of our Board for many years, and to serve alongside him on the Gaelic Broadcasting Committee, Bing Ymskeaylley Gaelgagh. In many ways, Brian's work reflected that of the charity itself - we may remember him first and foremost for his contribution to the revival of the Manx language, but he was also a fine musician and singer, a writer, teacher, broadcaster and so much more. The brightest of minds and the most generous of spirits, he was a manninagh dooie, a true Manxman. One of the driving forces behind Yn Cheshaght Ghailckagh, the Manx Language Society, Brian learned to speak Manx by going round with a group who were making sound recordings of the native speakers in the middle of the 20th century. We will quite rightly see many tributes which detail his dedication to Manx culture, to his tireless work to ensure the Manx language was accessible to all. Others will mention the joy of his broadcasting on Manx Radio's Moghrey Jedoonee, a programme where he showcased so much of what is good and interesting about this island and our culture. Brian was one of those rare people who we could genuinely and automatically think of as a national treasure, someone who made an impression on so many people, who talked with passion and knowledge about what was important to a sense of Manxness. What can not be said enough, though, is how he affected so many people's lives on a one-to-one basis, mentoring them in the language, encouraging, giving confidence and precious time. And all this from someone whose career was mostly spent as a physicist. Brian was someone who wore his learning lightly, whose modesty only engendered deeper respect for his skill, knowledge and talent. We should not forget that Brian was a key figure in the Celtic Congress for decades, organising many events and gatherings, and giving opportunities to young musicians in particular. He was someone who understood the Manx language within its cultural context, and within a wider Celtic world. Tributes have already come in from other language communities who valued his friendship and his willingness to help. We are fortunate to have recordings of his singing and playing, articles, books and teaching material written by him, translations, and interviews on film. His last act of generosity was to finish work on his autobiography, written in Manx, which will be released later in the year. His work was recognised in 2008 when he was awarded the Reih Bleeaney Vanannan, the Island's highest cultural honour, and in 2010 with a Tynwald Honour for his outstanding contribution to Manx life. We will remember him for so many reasons, for his tremendous cultural legacy, but most of all as a friend and supporter, as someone who was never afraid to speak up for what he knew to be right.
* * *
Dr Brian Stowell RBV TH was a wonderful and tireless exponent of Manx music and was at the centre of its modern revival. Through Arraneyn Beeal-arrish Vannin recorded in Peel in 1973, Brian was instrumental in making traditional Manx song available to be heard again and it is in his wake that we still hear these songs in schools and on stages today. One of the most important songs for Manx people in the past, and one apparently known to everyone on the Island at one point, is Kirree fo Niaghtey. This is sung here by Brian in the 1981 programme, Na Scanáin, created for Irish Television.
Listen to Brian singing 'Berree Dhone' in 2011.
More information about Arraneyn Beeal-arrish Vannin is available here.
Brian Stowell Resources here.
'If it wasn't for Brian, the Manx language would have died out' - Article in the Manx Independent by Mike Wade.
MTTV film - Remembering Brian Stowell.
(photo taken by C Woolley 1997)