Commemorative edition of WWI Songbook produced for Manx schools
Mon, 05 Nov 2018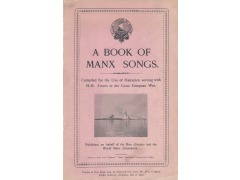 To mark the end of the First World War, Culture Vannin has produced a facsimile re-print of a little songbook which has been sent to every school in the Isle of Man. View the scanned booklet here.
A Book of Manx Songs
Compiled for the Use of Manxmen serving with H.M. Forces in the Great European War.
Published on behalf of the Manx Society and the World Manx Association 1915.
Facsimile reprint for Isle of Man schools by Culture Vannin 2018.
SHEET MUSIC

AUDIO

1. Ellan Vannin

Manx National Songbook p.84

The Best That's In CD

Come Back to Mona CD

2. Guardians of the Empire

-

-

3. The King of the Sea

61

LISTEN

4. A Manx Wedding

118

The Best That's In CD

6. The Manx Fishermen's Evening Hymn

158 (The Harvest of the Sea)

The Best That's In CD

7. Mona

-

8. Ramsey Town

107

The Best That's In CD

9. Fair Maids of Mann

55

Come Back to Mona CD

10. A Hymn of the Manx People

107 The Everlasting Hills

(Tune: Illiam Dhone)

-

11. Kirree Fo Niaghtey

15 (Sheep under the Snow)

The Best That's In CD

12. Mona Ma Chree!

-

-

13. A Song on Farmer's Daughters

34

-

14. Pan-Celtic National Anthem

-

-

15. Mylecharaine

48

-

Manx National Anthem

222

The Best That's In CD
Sources of sheet music & recordings:
Manx National Songbook (modern version)