40-year-old album released for the first time
Fri, 28 Sep 2018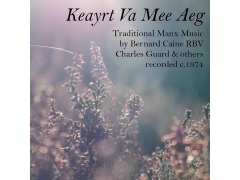 40-year-old album released for the first time
An album of Manx music dating back over 40 years and featuring some key figures in the history of Manx music has just been released for the first time.
Keayrt Va Mee Aeg: Traditional Manx Music features 12 tracks recorded in around 1974 by Bernard Caine RBV, Charles Guard and Meryl Drower. It was recently rediscovered and has now been released online by Culture Vannin.
James Franklin, Online & Educational Resources Officer at Culture Vannin, says:
'Discovering this beautiful set of recordings after so long was like discovering buried treasure. It was an amazing find. So we are delighted that the family of Bernard Caine was happy for us to share it online so that everyone can get a chance to hear it.'
Beginning with 'Laxey Wheel' by Stuart Slack, the album goes through a series of traditional Manx songs and tunes, from the well-known 'Ushag Veg Ruy' and 'Sea Invocation' to the less-well-known 'The Battle of Santwat.'
A rare song performed includes 'Arrane Ghelbee', the 'Dalby Song', which was said to have been learnt from a mysterious old man who would row into Niarbyl Bay over a century ago but never came to shore or was known of or seen anywhere else on the Island.
Although recorded by Charles Guard, the mastermind of the album was Bernard Caine RBV. A well-known figure in Manx cultural circles, Bernard Caine was a fluent Manx speaker immersed in the language revival of the 1970s and beyond. He was also a legendary entertainer and singer, with his lively sketches, stories, songs or tunes a keystone of local gatherings. This is thought to be the first album of his to ever be released to the public.
James Franklin says:
'Bernard Caine had a special and important place in Manx culture over the past 50 years. It is wonderful to recognise that and pass on something of that to the present generation through this album.'
The Manx title of the album (which means 'Once I was young') comes from one of the songs on the album, 'Eisht as Nish.' Sung by Bernard Caine with Charles Guard on harp, this song has become the basis of a new film by the young Manx filmmaker, Sam Hurt. Released to accompany the album, the film showing beautiful atmospheric scenes around the Isle of Man is available via YouTube or the Culture Vannin website: Eisht as Nish.
'Keayrt Va Mee Aeg: Traditional Manx Music' is available for free download via BandCamp:
https://culturevannin.bandcamp.com/album/keayrt-va-mee-aeg-traditional-manx-music