NAMA awards 2018
Wed, 08 Aug 2018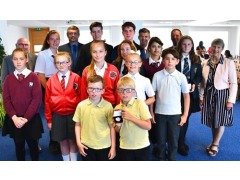 Young people honoured by North American Manx Association
Nine young people who have made a significant contribution to Manx culture and the community have been honoured by the North American Manx Association (NAMA).
The annual awards ceremony – which recognises those who have excelled in the fields of Manx music, culture, the arts and crafts, and involvement with the Island's community – was held today at Legislative Buildings in Douglas.
As in previous years, the judging panel had a difficult task in deciding the winners, given the considerable talents and achievements of those nominated.
The judging panel comprised Professor Ronald Barr, Frances Hampton, and Shelley Moffitt of the Department of Education, Sport and Culture, Aimee Corlett from the World Manx Association, and Anne Minay a life member of NAMA.
Minister for Education, Sport and Culture, Graham Cregeen MHK, who hosted the awards ceremony, congratulated the winners on their success:
'The Isle of Man has a rich culture, weaving the fabric of our nation, and as a community we are rightly proud.
'The contribution of our young people is vital, not only to ensuring that our traditions continue, but that they evolve and embrace developments in art, craft, language, and music.
'The awards are important and recognise real, emerging talent – we need only look at one of last year's NAMA winners, Mera Royle, who went on to win the BBC Radio 2's Young Folk Award in April.'
WINNERS OF AWARDS RELATING TO MANX MUSIC AND DANCE:
Outstanding achievement in Manx music: Jack McLean, aged 15, Queen Elizabeth II High School
Jack – a fluent speaker of Manx Gaelic – has been a keen member of the Manx youth music movement Bree since he was 10. He plays the accordion, piano, and the organ and demonstrates a passion for Manx music and culture. Jack is also a member of local band Scran who recently recorded their debut album. Jack is also a member of the QEII High School folk group Club Kiaull and also sometimes performs with Manx Gaelic group Clash Vooar. Jack is also an apprentice organ builder.
Manx language: Feeagh Joughin, aged 16, Queen Elizabeth II High School
Feeagh is a speaker of Manx Gaelic and is confident to use the language in school and with his peers. He is involved in Manx music and has represented the Isle of Man at festivals in Wales, Cornwall, and Brittany. Feeagh is described as a credit to his school, his family and the Manx community.
Outstanding contribution to Manx culture by a student under 18: Erin Loach, aged 15, Ballakermeen High School
Erin achieved an A* in her GCSE Manx Gaelic and is currently working towards her A-level in the language – all whilst learning Japanese, for fun. She is passionate about promoting the wider use of Manx Gaelic and understanding of the Isle of Man's heritage. Erin again won the Girls Solo in Manx class at the Guild this year, the third time in a row. She is a great ambassador for the Manx language and for the Isle of Man.
Outstanding contribution to the Manx culture by a group of young people under the age of 25: Marown Primary School
Yn Chruinnaght nominated the school as pupils are enthusiastic supporters of the Manx Folk Awards. The school has a Manx folk group, a Manx feddan group (penny whistle), Manx choirs, and a new ukulele group. The children are described as having a great passion for Manx music and culture with the support of their enthusiastic teachers.
Eight of the awards – specially minted silver medallions – were presented by Alex Downie OBE as a Friend of NAMA. The award for the most progress in Manx was presented by Laurence Skelly MHK.
Full report:
https://www.gov.im/news/2018/jul/06/young-people-honoured-by-north-american-manx-association/