Manx harpist Mera Royle - finalist in BBC Radio 2 Young Folk Awards
Fri, 09 Feb 2018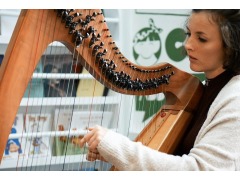 Manx Musician nominated in BBC Radio 2 Folk Awards
Manx harpist, Mera Royle, has been named as one of four nominees from across the British Isles and Northern Ireland in the Young Folk Awards Category of the BBC Radio 2 Folk Awards.
The highly prestigious awards evening takes place at the Waterfront Concert Hall in Belfast on Wednesday April the 4th 2018, compéred by the presenter of the BBC Radio 2 Folk Show, Mark Radcliffe.
Mera was selected from hundreds of young musicians and was one of ten upcoming acts who had been invited to perform to a live audience at a BBC Radio 2 Folk Show concert in Kendal. The judges included folk music legends Eliza Carthy and Tim Van Eyken.
At the concert, Mera played a range of Manx tunes and some of her own traditionally influenced tunes.
Following the announcement of the nominees on the Folk Show this week, Mera said, " All the acts at the concert were spectacularly good so I'm surprised and thrilled to have been nominated; the standard was so high. It was enough just to get to the concert in Kendal, but to be chosen as one of the final four nominees is very exciting and really unbelievable!"
"I just want to thank people like Mike Boulton at Bunscoill Rhumsaa who got me started on the harp, my harp tutor, Rachel Hair, my band mates in Scran, and everyone at Culture Vannin and the Arts Council who give Manx music and culture such great support. It's great that Tomas and Adam have been nominated for the Horizon Award with 'Imar', and that Jamie Smith has been nominated for an award with 'Alaw'.
Mera is eighteen years old and a student in the Sixth Form at Ramsey Grammar School, and has been playing harp, violin and whistle since she was eight years old.
The Young Folk Awards have been running for twenty years and the competition attracts entries from soloists, duos and groups aged between 16 and 21. Recent winners have included Talisk and the Mischa Macpherson Trio, both of whom have gone on to attract great critical acclaim through their subsequent recordings and live performances.
The winner in the Young Folk Award Category will receive prizes which include the opportunity to perform at several of the UK's major folk festivals.
Manx Musicians, Tomas Callister and Adam Rhodes who play with 'Imar' have also been nominated in the Horizon Category.
Jamie Smith has been nominated with the Welsh band 'Alaw'