Mannin / the Isle of Man at the Festival Interceltique de Lorient
Mon, 04 Sep 2017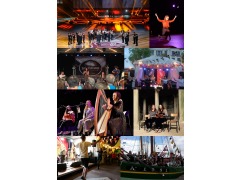 Annym, Birlinn Jiarg and Rushen Silver Band, three contrasting Manx bands, all did the Isle of Man proud at this year's Festival Interceltique Lorient.
After their success during the year of honour for the Isle of Man and Cornwall, Rushen Silver Band were invited back to the festival as part of the official delegation. As a band with a repertoire including Manx and Celtic arrangements, they were perfectly suited to the numerous parade events at the festival and proved a striking and popular contrast to the myriad pipe bands. They were a firm favourite in the official parade on the first Sunday morning, and were even given their own solo parade around the festival site; it was a wonderful thing to hear the strains of Cur Shaghey yn Geurey floating in to the Palais des Congres as they performed an impromptu spot in the heart of the city. Their late-night performances as part of the nightly spectacular Nuit Interceltique were not only gruelling, following long and detailed rehearsals and requiring late nights and substantial stamina, but professionally executed with evident pride.
Birlinn Jiarg are also festival veterans, having travelled to the festival in 2016 to accompany the dance group Ny Manninee. The recent launch of their album 'Seamount' this year provided an opportunity for the band to showcase their own arrangements. The band play a mixture of Manx traditional tunes and Beccy Hurst's own compositions. Beccy (concertina, whistles) was joined in Birlinn Jiarg by Freya Rae (clarinet, flute, whistles), Callum Younger (bodhran, percussion) and Alasdair Paul (guitar, bouzouki), all friends Beccy has met since moving to Newcastle. The band were kept more than busy with a round of festival gigs including the prestigious Palais des Congres and Espace Bretagne, and even performed in a local prison.
Annym, also known as Cairistìona Dougherty (whistles, voice) and Isla Callister (fiddle, voice) were joined by harper Rachel Hair for their festival debut. With a mix of tunes and songs, some beautiful airs and high octane tune sets, they showed a different facet of Manx music. They also performed around the various festival venues, including the haunting Enclos du Port, a disused water cistern with extraordinary acoustics. Where space allowed, such as the Palais des Congres and the Espace Parole, Annym were joined by a small troupe of dancers (Hollie Jaques, César Joughin, Grainney Sheard, Tamsin Armour) performing a mixed repertoire of solo, couples and group dances. As one Welsh band put it following their performance at the Palais des Congres; 'that was more like a show than a concert'.
All of the bands worked far harder than just their pre-arranged gigs however. Ably facilitated by the official delegate for the Isle of Man, Ealee Sheard, each group also completed a gruelling round of press conferences and radio interviews, promoting not only their own bands but also the Isle of Man and its culture as a whole. Annym conducted a live radio interview in Manx and Breton! Birlinn Jiarg and Annym joined forces to teach a busy, if mildly violent (Chyndaa yn Bwoailley!!) Manx dance workshop in the Salle Carnot dance venue.
Following previous successes, the Manx pavilion, which shares a space and a stage with the Cornish delegation was set up differently this year with a central stage space, creating a focal point for visitors and festival goers. This change allowed for a full programme of performances (six or seven spots a day) to take place, making this shared space a busy and vibrant area throughout the day (and night). All three of the Manx groups volunteered to perform at the pavilion, (sometimes more than once a day!), and were joined in the programme by the Cornish delegation bands and impromptu performances from Irish and Breton musicians attracted by the atmosphere of the stage and the promise of queenies!
Once again, the Isle of Man was amply represented, despite its relative size, with a variety of music, song and dance and maintained its position as a firm festival favourite. All of the musicians, dancers, volunteers and organisers are thanked for once again going above and beyond.
Huge thanks to Peter Young & Event Management Solutions for organising the Manx pavilion, plus Culture Vannin and the IOM Arts Council for their valuable support.
Report by Cinzia Yates