RESEARCH ARTICLE - Miss Florrie Forde - Act of Grace
Thu, 01 Jun 2017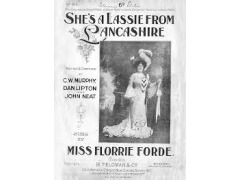 'Some Mother's Son'
by
Maurice Powell
Florrie Forde was not the biggest star of the national and inter-national stage to appear in Douglas - that accolade could be awarded to either Vesta Tilley, Nellie Melba, Paul Robeson, John McCormack or Harry Lauder - but she was certainly the best-loved by our summer visitors, and the artiste that Manx truly took to their hearts. She appeared almost exclusively at the Derby Castle Ballroom every summer from 1900 until 1939, except for 1902, and the war years 1915-18, and introduced many of her best-known songs including Has Anybody here Seen Kelly? It's a Long Way to Tipperary and She's a Lassie from Lancashire.1
Although the local newspapers devoted many column inches to her extravagant dresses, hats, furs and feathers, tribute was frequently paid to her selfless work on behalf of her favourite Manx charities. From 1924 she organised, at her own expense, an annual summer fete held in the Palace grounds, which soon became a popular seasonal fixture, and raised considerable sums of money for Noble's Hospital, the Royal National Lifeboat Institution and the Isle of Man Children's Home.
After her Derby Castle appearances she often raised additional funds by selling autographed copies of her photograph, and furthermore, wherever she was in Britain, never missed an opportunity to sing the praises of the Isle of Man.
The act of charity that seems to have meant more to her than any her other endeavours was referred to in the Isle of Man Examiner on 22nd July, 1927, as 'Miss Florrie Forde's Act of Grace'. The body of an 'Unknown British Sailor' had been washed up near Peel in 1918, and in 1927 she had erected a white memorial stone at the head of a grave surrounded by white marble curb-stones in Kirk Patrick Churchyard, inscribed:
'Some Mother's Son'
On a white cross lying flat in the centre of the grave are inscribed the words:
'British Unidentified. Interred 27th February, 1918'.
And at the foot of the grave:
Erected By Florrie Forde, 1927.
She visited the grave every year, and together with the music publisher Bert Feldman,2 provided funds for the upkeep of the grave. She also installed a collection box by the churchyard gate for anyone wishing to contribute to the preservation of the site in the future.
Notes
1. The crowds desperate to hear her were so large, that Florrie Forde was the only variety artiste who appeared in the Derby Castle Ballroom rather than the smaller variety theatre.
2. Bert Feldman & Company published many of Florrie Forde's most popular songs; Feldman himself was a frequent visitor to the island during the summer seasons for many years.